Tag Archives:
Audi Q5 TDI
The all new Audi Q5 remains largely unchanged if compared to its earlier version, however the addition of two more significant engines Q5TDI and high performance SQ5 are something to watch out for. Here we present you with the review of the diesel version of Audi Q5 TDI that has actually taken us by the storm with its magnificent performance which is much like its other diesel models like A6, A7, A8 and Q7. Apart from new engine, 2014 Audi Q5 TDI also has its share of convenience package that broadly includes features like Audi specialized music interface, Bluetooth, HomeLink and its much liked driver information system, all these features are quite standard for premium Audi models. However, to make a difference among the premium and premium plus models, Audi has introduced Audi side assist, Sport seats, three spoke steering wheel and brushed aluminum inlay, which is proudly names S line plus package. All these plus line package features comes as a standard in all new Q5 models.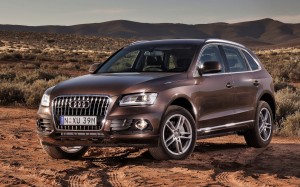 Speaking technicality, the Piezo style fuel injectors are undoubtedly the excellent choice for diesel engines as they are highly efficient to handle excess high pressure. The injectors of the model we are talking about are powerful enough to injecting diesel in Audi's 3.0 liter diesel V-6 engine at a staggering speed of 29,000 psi, which is definitely high from its previous versions and also ensures higher power output. The supercharged 3.0 liter turbo TDI makes you feel like home with its instant torque and the way its whisks smoothly away from stops. Audi has actually made downshift completely irrelevant with their new offering.
In comparison to its expensive oil burning competitors like Mercedes-Benz GLK 250 BlueTEC, 2014 Audi Q5 TDI offers better driving experience. More responsive steering, excellent brakes and its power advantage over Benz are quite apparent even during the first drive. Audi has worked really hard in making 2014 Audi Q5 TDI a car for all and its quite visible as well, it has gone a long way to cut down on weight if compared with other TDI predecessors. The entire structure of 2014 Audi Q5 TDI has been redesigned to make it look and feel lighter. This time they have also taken a break from complex chain drive and is replaced by two belts instead of four.
Audi has once again proved its mantle in the luxury automobile sector with its latest diesel offering and has also given its customers all the reasons to smile. The mating of their turbocharged V-5 TDI engine with capable Q5 is the most logical conclusion taken by them in recent years. The acceleration time of 0 to 60 within 6.5 seconds makes it zippy. N a rare advantage over other TDI models from Audi this one comes fully well equipped even from the entry level models and the all new Audi Q5 becomes a complete value for money when Audi's famed all wheel drive Quattro system comes at such a low price. The front runner SUV is the most compact luxury utility vehicle to watch out for in 2014.