Tag Archives:
Autobot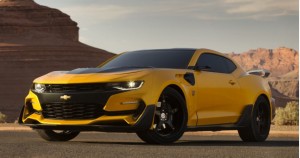 As if the Chevrolet Camaro is not popular enough, thanks to the Transformers franchise, director Michael Bay has not revealed which car will be used for the "Transformers: The Last Knight". However, reports say it will be the sixth-generation Chevrolet Camaro.
The car will serve as the alternate mode for the popular Autobot Bumblee, which has an emotional attachment to the show's star—formerly played by Shia Lebeouf and now, Mark Wahlberg.
Bumblebee is traditionally a small, yellow car with a black strip right across the middle of the hood. Originally, a Volkswagen Beetle was used, though the latest franchise preferred the Chevrolet Camaro and Pontiac Firebird muscle cars.
The new Transformers movie, which is due to be released on June 23, 2017, means a whole lot of new cars and trucks will play the alternate modes for the fighting robots—the Autobots and the Megatrons.
The Camaro to be used for the 2017 movie is not your ordinary Camaro. Aside from the signature yellow paint, the new Bumblebee will have afresh body kit with some distinct spoilers. Of course, the Autobot logo will also play a significant role in the new Bumblebee's looks.
The new Camaro will reportedly be up for sale, or at least, that's what is being expected from Chevrolet. If you like this particular Camaro, you would have to wait for additional details though. But chances are looking up since a 1992 Peterbilt 379 truck and 1967 Chevrolet Camaro used as alternate modes for Optimus Prime and Bumblebee were recently sold at auction.
There are no details yet about the movie. The only thing we can confirm is that Wahlberg, who made his debut in the previous "Transformers: Age of Extinction," will remain its main protagonist.
Additionally, Josh Duhamel will reprise his role as William Lennox. Reportedly, Sir Anthony Hopkins is going to play a major part, too.