Tag Archives:
autonomous driving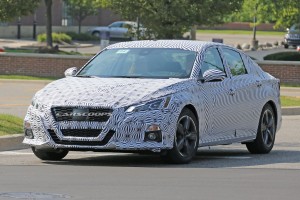 The 2019 Nissan Altima midsize family sedan is slated to be revealed soon at the New York Auto Show. Though we don't have a full idea of how it will look like, seeing as we only saw it in spy shots and early sketches, it's still nice to know a little more details about it.
Reports said that the new Altima will have a ProPilot Assist option. It's a semi-autonomous driving system, just in case you forgot what a ProPilot is. The system can provide steering, acceleration, and braking assistance on highways. It has the ability to bring the car to a complete stop and resume accelerating up to speed. It can also recognize other cars, adjusts speed, and keeps the car in its lane.
It is semi-autonomous because it requires the driver to continue paying attention to the road and to keep his hands on the steering wheel in case he needs to take control of the car. The system can manage some corners on highways, but it all depends on how tight the turn is. Certain turns cannot be managed.
Currently, the ProPilot Assist system is available on the Nissan Rogue crossover SUV, as well as the new Leaf EV. The Altima, then, is the third Nissan-badged vehicle that will get this innovative technology. Based on the Rogue and the Leaf EV, the ProPilot Assist system is simple and reliable. It is handy for long and boring highway drive since it will virtually allow you to rest during long drives.
This is a tempting new feature on a family sedan since who wouldn't want to mingle and chat with the family while driving? There is no word yet on whether the ProPilot Assist will be available across all variants of the Altima. Expect to shell around $28,000 for it.
Spy Shots of the 2019 Nissan Altima
Here are some spy shots of the 2019 Nissan Altima from Carscoops: