Tag Archives:
Bentley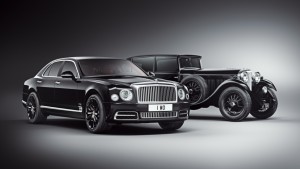 This will be a year of celebration for Bentley as it commemorates the 100th year since the company's conception. The celebration started on July 10 and will last throughout the year. The event will be highlighted by the coming of the Mulsanne W.O. Edition by Mulliner, which will be limited to only 100 units around the world.
The sedan, which will be available in standard, long wheelbase, and Speed versions, celebrates Bentley founder Walter Owen Bentley and his 1930 8 Litre, the founder's personal car. The 8 Litre was the last vehicle Bentley designed for the luxury automaker and the second example off the production line. The classic car wore a coach-built body from Henry Jervis Mulliner & Co., the same company that personalizes Bentley cars until this very day.
Walter Owen was not able to enjoy the fruits of his labor and the "ultimate expression of automotive engineering" because financial troubles forced him to sell the company in 1931. In 2006, Bentley bought the 8 Litre and immediately gone through the process of restoration. This means replacing the crankshaft, which is the central feature of the Mulsanne W.O. Edition.
What happened to the old crankshaft? Bentley cut it into 100 pieces and each will be placed inside a custom, illuminated cocktail cabinet that's located in the rear quarters of the 100 special Mulsanne units. The glass display will be framed by four different kinds of wood and aluminum that create a marquetry scene.
The special edition will also get Heritage Hides in Fireglow with Beluga details and stitching, Dark Stain Burr Walnute veneers, and Fireglow lambswool carpets. The exterior is painted in onyx and features a chrome hood strip, optional chrome grille and surround, and discrete special edition badging. There will also be Beluga Back wheels.
The best thing about owning this car, aside from it being a special edition, is that customers can have their W.O. Edition Mulsannes customized.
The Mulsanne W.O. Edition by Mulliner will be unveiled at the Monterey Car Week in August.