Tag Archives:
Bicentennial Edition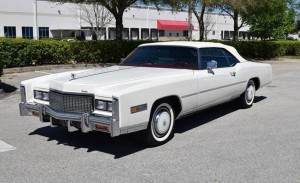 In the 1970s, threats of air pollution and government safety regulations almost put an end to the convertibles. By 1975, only GM Motors was the lone producer of full-size convertibles, but it didn't last long as the next year saw the departure of its sole surviving US convertible—the Eldorado.
This year marks the bicentennial anniversary of the 1976 Cadillac Eldorado, and GM wouldn't let this year pass without something to commemorate it. According to a report, the final 200 units of the 1976 Eldorado convertibles were Bicentennial Edition cars. They are identical to the convertibles of the past, except for the California-emissions equipment choking the 500-cubic-inch V-8.
The Bicentennial Edition comes in triple white—Cotillion White exterior, a white top, and white leather interior with contrast red details such as the seat piping, dash, seatbelts and carpet. Red and blue pinstriping are on the hood, as well as red pinstriping on the sides.
Instead of the standard black, the wheel covers have white centers, giving the car an uber retro vibe. The car is packed with everything you can expect of a regular Eldo; options also remain the same. But for the Bicentennial Editions, you'll find a gold dash plaque: "This 1976 Fleetwood Eldorado is one of the last 200 identical U.S. production convertibles."
With GM keeping the last unit for itself, this means there are 199 Bicentennial Editions of the Eldorado out there. Most of these are assuredly in the hands of collectors, ready to show them to the world once convertibles became truly extinct.
Of course, that's unlikely to happen anytime soon. You can walk into any dealership now and get yourself some modern top-down convertible, though that cannot diminish the charm and wonder of owning a '76 Eldorado with its long hood and utter disregard for space utilization.
The Bicentennial Edition will most certainly not come cheap. It might two to three times the price of a standard Eldo.