Tag Archives:
Black Edition
When Bentley launched its Continental GT Black Speed special edition for the Australian market, both the US and European markets were slighted by the fact that they can't get their hands on it.
Fortunately, Bentley announced a new special edition using the "Black" name. This time, it's based on the GT Speed according to a report. You can choose either a coupe or convertible bodystyle, and there's also more than just one exterior color.
But what sets this apart from other "special editions" is that the 2017 Bentley Continental GT Speed Black Edition will receive upgrades on its drivetrain. It will have 633 hp and 620 lb-ft of torque. The extra horsepower and torque will allow the car to go 0-60 mph in a mere sprint.
True to its name, the GT Speed Black Edition is decked out in high-gloss black exterior. It has an all-black components—main grille, meshes, bumpers, headlamps and taillights bezels, window trim, lower chrome strip, mirror caps, and bumper insert.
You can opt to have contrast colors for the exterior. Colors include Hallmark (metallic gray), Beluga (black), St. James' Red, and Cyber Yellow.
Clients can customize the overall look of the GT Speed Black Edition. Beluga will give a sportier appearance while St. James' Red and Cyber Yellow will make it flashier.
Regardless of the exterior colors you will choose, the GT Speed Black Edition will arrive with all-black, 21-inch, five-spoke wheels and bespoke brake calipers in either red or black.
Bentley Motors already unveiled the GT Speed and GT Speed Black Edition this week in a private event in New York City. Deliveries for the GT Speed Black Edition will begin this year's summer in both the US and European markets.
Bentley's Continental GT Speed Black Edition will sell for $253,235 in the US. But if you want a drop top, prepare to shell out $277,235 for the convertible model.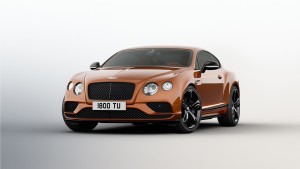 As if we weren't already impressed with the Bentley Continental GT, the company gives us even more to love. Producing the fastest Bentley ever, the new Continental GT has a top speed of 206 mph and delivers more horsepower and torque. It also comes in a striking Black Edition.
The Continental GT's 6.0-liter twin-turbocharged W12 engine can now produce 642 PS—up from 635 PS—and 20 Nm extra torque to bring the total to 840 Nm. The additional torque brings better acceleration performance, thanks to it being applied through the entire rev engine via reconfiguration of the boost control.
As a result, the Bentley Continental GT can now go 0-60 mph in just 3.9 seconds.
Bentley is introducing the Continental GT in Black Edition too, which celebrates the sporting character of the brand. It is available in both coupe and convertible body styles. The black exterior color comes in high gloss finish, which includes the window openings and lamp bezels. Its 21-inch five-spoke directional wheels come in black with distinctive brake calipers, which can come in either black or red finishes.
In addition, it has contrasting colors on the front splitter, side skirts and rear diffuser in four different shades, namely, Hallmark, Beluga, St. James' Red and Cyber Yellow, to match the exterior styling accents. It also has contrast stitching that gives more character to the diamond quilting of the doors and the Mulliner GT Design seats.
Paul Jones, Product Line Director for Continental GT, said that Bentley decided to come up with the new Continental GT Black Edition to answer customers' request for a model in the Continental line that would offer increased sporting capabilities and recognizable styling outside.
The new GT Speed and GT Speed Black Edition models are available for order now. Deliveries will begin this summer.