Tag Archives:
bolt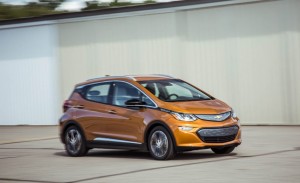 The arrival of the Chevrolet Bolt EV is a milestone for the automobile industry. This only means the electric vehicle variant isn't going away, and it's actually here to stay.
Here are the top 5 reasons why the the Chevrolet Bolt EV will succeed in the market, according to a source:
1. It's Priced Below $30,000
The Bolt is really priced at $37,495 in LT trim, but a $7,500 federal tax credit can pull that price down to under $30,000. That's not to mention that there are states and municipalities that offer incentives if you use an electric car.
2. It Can Run Up to 238 Miles
The Bolt can cover 238 miles of ground, but that's a relaxed and leisurely drive up the California coast. The exponential effects of aerodynamic mean that the faster you go, the more energy you consume. When set to 75 mph with the climate at 72 degrees, the Bolt's battery can last up to 190 miles. That's more than you need for daily driving. The Bolt also has three controls on its digital instrument panel: minimum, maximum, and a more prominent best estimated based on your driving style, use of accessories like headlights and audio and ambient conditions.
3. Fast Charging is Becoming Available
If you're worried about the charging time, don't be. For $750, Bolt owners can have the direct-current fast-charging capability via a Combined Charging System (CCS) port. As of September, there are already 1,061 CCS connectors in the US. These stations charge at 50 kilowatts, which, according to Chevrolet, means an added 90 miles of range in 30-minute charging. But that's nothing compared to Tesla's 2,010 Supercharger hookups with 120 kilowatts capacity.
4. It Offers Comfortable Driving Experience
The Bolt delivers comfort to both the driver and the passengers even over broken pavements, thanks to the low-mounted battery that is cushioned by well-tuned damping. In terms of chassis tuning, it is similar to the Cadillac CT6 and the Chevrolet Malibu.
5. It's Less Than a Crossover, But More Than a Sedan
The Bolt is originally marketed as a crossover, though it looks nothing like it. The only thing similar with a crossover is the tall seating position because of the underfloor battery pack. It doesn't have the ground clearance, though, of a crossover.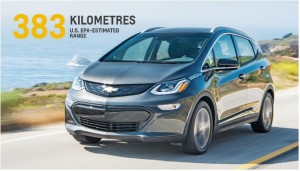 It looks like Chevrolet is keeping up its promise to offer the 2017 Bolt EV at an affordable price as it recently announced an MSRP of $37,495, including destination charge. This is rather cheap considering the Bolt EV has an EPA-rated 238 miles on a full charge.
Also, depending on individual tax situations, customers may even receive a federal tax credit of up to $7,500 for a net value of $29,995. Alan Batey, president of GM North America and leader of Global Chevrolet, said that "value" is the hallmark for Chevrolet and their offering of an affordable Bolt EV proves their intent of letting their customers access an electric vehicle with plenty of range.
According to reports, Bolt EV buyers can expect range, cargo space, technology and safety features that all come standard in this vehicle with crossover proportions. Bolt EV is considered a smart buy for any customer, thanks to its dependable performance and sales and service support from a nationwide network of Bolt EV certified Chevrolet dealers.
With the Bolt EV, you're not only saving on fuel and saving the environment at the same time, you'll also be getting well-appointed equipment and features.
The Bolt EV is offered in the standard but well-equipped LT trim, which has a starting price of $37,495. It comes with a wide array of features such as Regen on Demand™ steering wheel paddle, rear vision camera, 10.2-inch diagonal color touch screen and MICHELIN™ Self-sealing tires (in certain circumstances). The top of the line is the Premier, which features all the equipment in the LT trim plus leather-appointed seats, front and rear heated seats, surround camera and rear camera mirror.
The pricing released includes the destination and freight charges, but excludes taxes, title, license and dealer fees. Select dealerships across the US are expected to start offering the 2017 Bolt EV by late this year.