Tag Archives:
Buick GMC dealer
There has been a wide range of sizes available in crossover SUVs but only a few automakers have actually presented the market with absolutely small utility vehicles aimed at consumers who drive in crowded cities. 2014 Buick Encore is one such subcompact crossover. What makes it different from rest of the alleged compact crossovers is the amount of luxury it packs in its small size. The only small SUV viewed as a premium entry in the niche, 2014 Buick Encore marks enough presence with its downsized stout structure to justify its price tag which is anticipated to reach more than $30,000 with a heavy hand on the option list.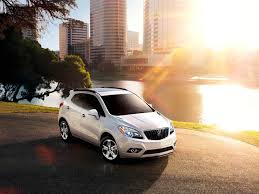 The uniquely designed little SUV makes it hard to figure out what it competes with. While the MINI Countryman and Fiat 500L are smaller and quirkier, they stand with completely different designs than that of the Encore. As far as the traditional luxury brands are concerned the only automaker offering an all wheel drive crossover closest to the Encore in size is BMW. And as the BMW X1 shoppers go, it's hard to say if they even know where their local Buick-GMC dealer is located. For those who seek tall wagons that aim for good gas mileage in a practical, city-friendly size, the Buick Encore stands alone and proud in its more traditional approach to luxury. Consumers who look for small but plush crossovers that is a fine mix of elements of a hatchback and a crossover, and offer an all wheel drive may end up with 2014 Buick Encore with a few other options. While the sales nowhere match the enraging sales of Buick's mainstay larger Enclave crossover and the LaCrosse sedan, the tiny Encore reaches out to a younger audience and is potentially pioneering a whole new market segment.
The structure of the 2014 Buick Encore attempts to convey a tough and strong look to disguise its box like shape. With a steeply raked front end, the little luxury rides on huge 18 inch wheels. Accommodations impress certain dimensions while appear to be tighter in others. The flexible interior configuration is a plus point. 2014 Buick Encore comes is just one engine and transmission combination currently. A turbocharged 1.4 liter four-cylinder engine from the Chevy Sonic mated to a six speed automatic transmission. Verging on a whopping 3,200 pounds, Encore carries a lot of mass to move with just 138 ponies. If the option all wheel drive is removed and hence the added weight, the little crossover takes about 9 seconds to reach 60 mph from rest and if you need the extra weight to drive all the wheels you'll need 10 seconds. Handling is as fine as you may get in any tall, heavy wagon with a short wheel base. The all wheel drive models roll more smoothly than the front wheel drive ones.
With its safety features and equipments, the 2014 Bick Encore and its price tag make complete sense. This is one premium luxury crossover that is not at all large, though a bit hefty, but the little SUV makes up for it by being drivable on crowded city roads!