Tag Archives:
Cadillac Grille
Leadership directly results in recognition, case in point: the 2014 Cadillac Escalade. The much-admired SUV still continues to set stature and remain one of the most luxurious, the brawniest large SUV's in the market. If treading lightly is what you want, this is just not the vehicle for you. Perfect to be seen as either a high-end executive transport, marking your presence when your arrive all bold, or a symbol of overindulgence, the new Cadillac Escalade's accentuated redesigned exteriors and improved performance put it into an authoritative niche in the market of luxurious crossovers.
Way quicker and more responsive than you ever might expect from such a beasty vehicle the 2014 Cadillac Escalade defies logic. The gigantic SUV is actually quicker than the way smaller and lighter 2012 Mercedes-B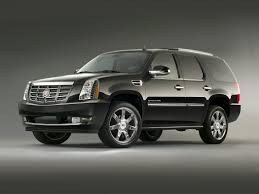 enz C300 Sport Sedan. What adds to its formidable presence on the roads is 6.2 Liter V8 engine. Wait for it! The road monster sets standards with commanding power of a whopping 403 HP. Immense power at your disposal! The 403 HP clubbed with 417 pound-feet of torque can propel this rumbly muscle car from rest to 60 mph in a mere sprint time of 6.5 seconds. Not to forget this is when the big ute weighs almost 6,000 pounds. The low-end torque which is also great for towing married to the six speed automatic transmission is the key to the responsive shifts and the oh-so-smooth ride this humungous SUV delivers. And when it says "great for towing", basically translates to a towing capability of a massive 8,300 pounds. And all of it adds up to an SUV experience unlike any other that makes you forget that this is the one of the biggest, heaviest luxury SUVs and also one with the truck roots.
The 2014 Cadillac shows off its signature and distinctive Cadillac Grille that helps it make its way through a crowded field of luxury crossovers. Style icon, if called, would be no harm done to anyone. Monochromatic striking accents, for instance, the body-color, side moldings and door handles along with 22 inch ultra-bright machine finished painted aluminum wheels make it look a little more stylish than the rest. On the inside the new Cadillac boasts a comfortable cabin that is luxury-car plush yet reasonably quiet. The stunning interior is trimmed in elegant brushed aluminum accents, polished chrome and tastefully selected burled wood. Heated steering wheel, 14-way adjustable heated/cooled supple leather trimmed front seats, automatic climate control and 10 ideally place speakers, all combine to make the driver and passenger feel luxury while riding it.
Escalade, to put it simply, is a full-fledged luxury vehicle. The base model semblance of the Escalade caters to VIPs and executives with an interior that can reach up to a limo-like level of gear focusing on either work or play as required. The Platinum is the choice for those who lure for a more expensive look. There is a Cadillac escalade for everyone. Well, everyone who can spend $63,170 of starting price of this full-size SUV. Expensive but so totally worth it, this beast is going to be one big competition to the Audi Q7, the Infiniti QX56, the Land Rover Range Rover, Lexus LX570 and the Mercedes-Benz GL Class. Not much time left to see how the forth gen Escalade sweeps SUV lovers off their feet.