Tag Archives:
Cadillac Provoq
A midsized crossover with two rows of seating, driven by a fuel cell, the Cadillac Provoq concept was an important vehicle to note at the North American International Auto Show in Detroit for two reasons – The Cadillac Provoq takes General Motor's E-Flex powertrain technology to the next level and it was the first glimpse of a new small SUV for Cadillac, known to date as the BRX.
This five passenger concept which initially made its debut at the Consumer Electronics Show in Las Vegas uses GM's E-Flex architecture that came into limelight at the 2007 North American International Auto Show with the Chevrolet Volt.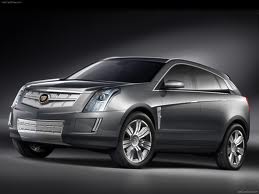 Showcased as a front wheel drive electric vehicle, this concept car has an all wheel drive capability. The Cadillac concept take the E-Flex technology propulsion system to the nest step and to a much larger vehicle that the compact little Volt. This concept also introduced the architecture to Cadillac, which was then determined to brand itself as the technology leader. The Provoq has 70 kW front drive electric motor and two rear motor of 30 kW each. Vehicle chief engineer of advanced system integration, Nick Zeielinski claims that the Cadillac Provoq can cruise from 0 to 60 mph in a sprint time of 8.3 seconds with a top speed of 100 mph. The fuel cell stack in the Cadillac Provoq is fifth generation technology. Reduced in size by a factor of one-third than the previous generation stack, it puts out 88 kW. This vehicle features a lithium ion battery pack which is good for 60 kW, and there is a plug for overnight charging.
190 inches long with a 110 inch wheelbase and 65 inches tall and 75 inches wide, the Cadillac Provoq shows an evolving face of Cadillac with a new grille and headlamps. Also, in a nod to technology, it has active front grille louvers that only open when the fuel stack needs to be cooled, otherwise, the grille remains closed in order to increase fuel efficiency. Along with the mobile grille, the Cadillac Provoq features so flush and smoothly constructed wheel spokes and polycarbonate filters that dramatically improves the vehicle aerodynamics. To that same end, the mirrors are as small as possible and the door handle pops out with a touch. On the inside, the Provoq lightens up its passengers' mood with ambient lighting and GM's commitment to quality materials is most evident.
The vehicle platform underpinning the Provoq was not such a great topic to discuss when the concept made its debut, however, Jim Taylor, Cadillac general manager, confirmed the Provoq to be a foretaste of the BRX crossover. The BRX hails from a new front wheel drive and all wheel drive platform dubbed TE that combines elements of the old Theta global compact crossover architecture and the Epsilon global mid-size platform. Presumably misspelled to be provocative, the Cadillac Provoq concept shows a little restraint in its vision of green car technology and will be one stylish plug-in hydrogen electric fuel-cell luxury SUV if transformed into reality.