Tag Archives:
Cadillac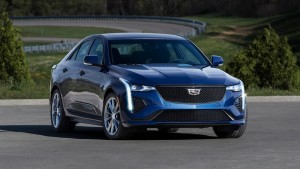 The 2020 Cadillac CT4-V is now the brand's entry-level model, effectively replacing the well-loved ATS-V that ended its run last year. The ATS-V was a four-door sedan that produces 464 horsepower. Will the CT4-V be able to compete?
Cadillac showed us the CT4-V version, which is a notch higher than the base model but still isn't the track variant we are expecting. The CT4-V looks pretty athletic already, though, with its wide grille with a dark mesh pattern framed by a dark border. This is reminiscent to the ATS-V, as well as the vertically-oriented headlights. The CT4-V diverged a little by adding lights that drip down on the sides of the front fascia.
If you can remember, the ATS-V has a smaller upper grille and a more prominent lower grille. Its carbon fiber package will get you a carbon-fiber front splitter, carbon-fiber hood vent, and composite black rocker extensions. Hopefully, we'll get to see all these on the track variant of the CT4-V.
Viewed from the side, the CT4-V doesn't look out of the ordinary. It features a character line near the top of the door handles and a sharper line at the bottom near the wheels. The roof has an interesting slope to it that made the window look wonky.
The two models—the ATS-V and the CT4-V—share the same wheelbase, but the latter is 3.2 inches longer. The difference is barely visible but we're sure the passengers will appreciate the extra space.
The CT4-V has quad exhaust tips popping out of its rear end. The taillights are also oriented vertically, much the same as the headlamps out front. The overall design of the rear end is simple; the ATS-V has a bolder rear spoiler.
Moving inside, the CT4-V will be completely different from the ATS-V. The new model has a redesigned infotainment setup—a screen that sits on top of the dashboard and a rotary control that knob that sits right next to the driver. There are other control buttons, too, that have all been made for user comfort.