Tag Archives:
camry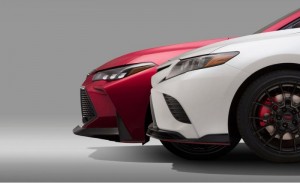 The Toyota Camry and Avalon currently have XSE versions, which Toyota apparently doesn't think is sporty enough. The Japanese automaker is now sending these two models to its performance-oriented TRD division.
The TRD versions of the Camry and Avalon will make an appearance at the Los Angeles Auto Show next month, Toyota confirmed on Twitter.
The TRD division doesn't have much experience tinkering with a Toyota sedan as it is mostly focused on the off-road-oriented TRD Pro trucks and SUVs, as well as the newly updated 86 TRD Special Edition sports car. Based on the teaser photos, the TRD versions will have more aggressive wheels and tires and a body kit with a red stripe.
Since this is a TRD version, the Avalon and Camry are expected to have a stiffer suspension tune, a sportier interior trim, and plenty of TRD badging.
Although both the Avalon and Camry are not lacking in power, we hope that there will be an update of engines. Currently, both offer a 3.5-liter V-6 engine that makes 301 horsepower, which is quite a significant amount for any front-wheel-drive sedan. To improve the output, the TRD configuration will need to add a sport exhaust. The power boost would be minimal, though, since too much power would not fit the front-wheel-drive configuration of the Camry and Avalon TRD.
There's no competition in this segment except perhaps for the Ford Fusion Sport that makes 325 horsepower, the Buick Regal GS that produces 310 horses, and the Dodge Charger with its various V-8-powered variants. These three are the only larger mainstream four-door sedans with performance variants.
The Camry and Avalon TRD models will make their debut later this year at the Los Angeles Auto Show, which starts on November 28. We expect it to have a starting price of $24,565.