Tag Archives:
Canada
The Canadians are getting a special edition Subaru WRX. The model is called the WRX Raiu Edition, which takes its name from the Japanese word meaning "thunderstorm." It features exclusive exterior and interior elements. Since there are only 100 units available, the model is a must-have for fans and enthusiasts.
1. It Is The First Special Edition For Canada In Years
The 2019 Subaru WRX Raiu Edition will signify the first time that Subaru created a special edition car for Canada in over 15 years. That's a seriously long drought for a market as big as Canada but alas, the Japanese company has decided to give the North more focus.
The WRX Raiu Edition is based on the WRX sedan but without the STI designation. To be clear, the special edition car will have the same power as the other WRX models. It is going to be powered by a 2.0-liter turbocharged boxer-four engine. It makes 268 horsepower and 258 pound-feet of torque. The engine is paired with a six-speed manual transmission.
2. It Offers Exclusive Features
The car is dressed in a Cool Grey Khaki paint finish. That color is exclusive to the WRX Raiu Edition, so you know your special edition car is special simply because of its color. That will be contrasted with blacked-out door mirrors, a shark-fin antenna, and a lot of badging showcasing the special edition status of the car.
It will have a lot of STI components such as the ground-effect aerodynamic components and the short-throw shifter in the cabin.
3. It Is Similar To The Subaru WRX Series.Gray
The WRX Raiu Edition will only be released in Canada but that should not be the cause of envy of American buyers. The car is very similar to the WRX Series.Gray Edition that the automaker launched in America a few months ago. Each model of the 100 units will cost CAD$40,995 or about $31,000 in USD.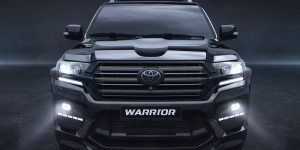 INKAS Group of Companies inked an exclusive $18-million deal with Kore Design Studio to produce its "unique line of carbon fiber products." Under the agreement, INKAS Group will act as the exclusive manufacturer of Kore Design tuning kits and interior feature upgrades.
Kore Design Studio is an expert in aftermarket visual tuning packages for a wide range of brands, models, and makes. Toyota, for example, is a client of Kore Design, and was often responsible for providing the Japanese automaker a one-of-a-kind look and performance upgrade.
David Khazanski, president of INKAS Group, said in a statement that his company is honored to be a partner of Kore Design in the production and manufacturing of luxury vehicles. He believed that the partnership will widen INKAS Group's portfolio of products and services, as well as allow it to create fresh opportunities for Canadians and support the Canadian economy.
INKAS Group is an international corporation with headquarters in Toronto, Canada. In the last two decades, the group has accumulated "extensive experience" in the design, engineering, and manufacturing of customized vehicles for VIP clients. Among its most notable clients are politicians, celebrities, and high-profile individuals.
"As a provider of exclusive solutions for the automotive segment, we stand behind the quality of our products, and it was vitally important for us to find a reliable partner willing to support our enormously high standards of engineering and manufacturing," Martin Lorrenzini, chief designer officer of Kore Design Studio, said.
INKAS Group, he added, is the "ideal choice" because they are committed to quality like Kore Design Studio. Mr Lorrenzini also lauded INKAS' extensive industry experience and modern fully-equipped production facility.
As part of the agreement, INKAS Group upgraded its manufacturing facility with 3D scanners, five axis milling machines, and Autoclaves. Production of the new carbon fiber products will begin in January 2018.