Tag Archives:
car of the year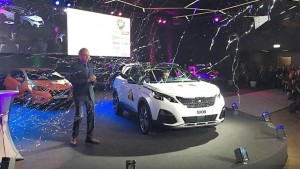 The Peugeot 3008 emerged as the winner of the "Car of the Year 2017" title at the 87th Geneva Motor Show. The prestigious award was received by Peugeot CEO Jean-Philippe Imparato who took over the company in September 2016.
According to the official website of Geneva International Motor Show, the final voting for the award took place last Monday, March 6, 2017. The jury was composed of 58 journalists hailing from 22 European countries. The final list for the title included the Alfa Romeo Giulia, Citroën C3, Mercedes-Benz E-Class, Nissan Micra, Peugeot 3008, Toyota C-HR, Volvo S90/V90.
The scoring of the judges were determined based on the criteria of design, innovation, security and value for money of the vehicles. The Peugeot 3008 gained a total of 309 points from the jury, which was the highest among the other entries. The Alfa Romeo Giulia was the first runner-up with 296 points followed by the Mercedes-Benz E-Class with 197 points.
President of the Jury Hakan Matson, who is also a part of Swedish economic magazine Dagens Industri, said they recognize the increasing share of SUVs and crossovers in the market. Therefore, they chose the Peugeot 3008 as the winner for this year's award.
Based on a report by Car, Imparato stated, "We made it, the long way from hell to heaven. In 2012, we decided never more (to flirt with bankruptcy), we decided to put the money into the product. We are really proud, it's a great moment for us," as he received the award.
It should be noted that the Car of the Year award goes all the way back to 1964. It was created by STERN.
Peugeot is no stranger to the Car of the Year award. The brand first won the distinction in 1969 with the 504. Then, it went on to get the same recognition with the 405 and 307 in the past. The 3008 is the fourth product of the company to get the title.