Tag Archives:
Carabineri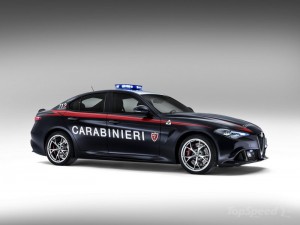 How cool is it that in some parts of the world supercars are being used as police cars? Some departments actually have the Maserati GranCabrio Politie and the entire lineup of Lamborghini, particularly the Lamborghini Huracan LP610-4 Polizia, as cop cars.
But with the entrance of the 2016 Alfa Romeo Giulia QV Carabinieri, the list of police lineup just got a bit longer. The catch is, the supercar isn't going to be used as traditional police cars. Instead, it will transport blood or organs during medical emergencies, according to a report.
Outside, the Giulia QV and the Carabinieri version don't look very different. They have the same fascia and body design, although the Carabinieri is decked out with new LED flashers at the top of the innermost vents of the fascia. Of course, there's also the traditional police-issued LED light bar on the roof.
The car is designed with full police livery—a red stripe on each side of the hood, and the word Carabinieri in white lettering sprawled along the forward edge of the hood.
Inside, there are standard police features such as radio system, portable cooling units, and a defibrillator. It appears there's also a Samsung Galaxy Tablet installed on the passenger side of the dashboard. This might be for the Odin system the police department uses.
On the armrest of the front doors, there is a LED flashlight that can provide easy access to officers if they ever need supplemental lights. There might also be a storage for a long gun hidden somewhere in the cockpit.
Supposedly, the Carabinieri will have more power than the production car. That is usually the case for police cars. Since there's no word on it yet, let's take the Carabinieri for what it is. It has a 2.9-liter BiTurbo engine delivers 510 horsepower and 442 pound-feet of torque.
Even without the tuning, it can hit 62 mph in 3.9 seconds, and is also fuel efficient.