Tag Archives:
carrera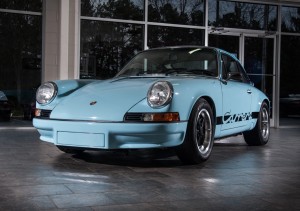 Most Porsche lovers consider the 1973 911 Carrera RS 2.7 as the best 911 that ever came out. It was the first race car to be considered fit for use in public roads. The auto is very rare and getting one would cost you quite a fortune. So, if you're looking for a more affordable alternative, you might want to take a look at the 1987 Porsche 911 Carrera Coupe sold by Bring a Trailer that has been modified to pay homage to the 1973 911 Carrera RS 2.7.
According to TheDrive, original 911 Carrera RS 2.7's value right now is around half a million dollars. Five hundred initial units of the car were sold at the Paris Auto Show back in 1972. Therefore, aside from its expensive price tag, it is hard to find someone selling it at the present because not all of the 500 units survived the test of time.
On the other hand, the transformed 1987 911 Carrera Coupe, which now resembles the RS2.7, only costs $53,000. Among the changes introduced in the car include the new bumpers, lights, trim accessories and the ducktail spoiler. Then, the body of the auto was finished in Gulf Blue and was given "Carrera" decals to complete its facelift. To complete its exterior transformation, the vehicle received a 3.2-liter inline-six with a five-speed manual gearbox.
Inside, the 1987 unit had its surfaces replaced to accurately reflect the materials available in the 1973 period. The carpeting and houndstooth seats of the auto were from a 1973 Brumos Edition 911. Even the steering wheel, air conditioning and gauges were backdated.
Based on the documentation of the car, its chassis has logged a total of 122,000 miles. It has gained 2,719 miles in its gauge after the restoration procedure.
As seen in the pictures below, a great deal of detail was put into the transformation of the 1987 Porsche 911 Carrera Coupe to a 1973 911 Carrera RS 2.7 that it almost looks like the original thing already.