Tag Archives:
Chevy Equinox
Ever since the Chevrolet introduced its Equinox way back in the year 2010, we have been its fans because of several reasons like its good looks, practicality and comfort, which make it not ours but many other reviewers' favorite small crossover. But if make a close comparison to some of the recently launched or we can say refurbished SUVs' in the market, we found that 2014 Chevrolet Equinox is not as much desirable as compared to its rivals or even not the same what it used to be, but it still has that same power and persona that will surely make you take a look at it while you go out to buy a new small SUV.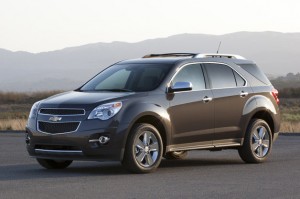 The best part about the 2014 Chevrolet Equinox is its powerful V6 engine, which has always been a strong point for Chevy. If we go by the latest trend, we found that most of the SUV makers are dropping V6 engine from their small SUVs' due to concerns like fuel economy and lack of customer demand, which has again become a strong point for Equinox as well its GMC twin Terrain because in 2014 there are only few models of small SUVs available that are offering grunt six cylinder engine for towing, hauling or even fulfilling the speed desires of the consumers.
Over the years, Chevy Equinox has managed to get thumbs up for its ride comfort and cabin quietness, which are also on the top five of what we need from an SUV list of most of the consumers. However, there is one factor with Equinox which considerably decreases its points and that is its limited cargo space, which is quite low if compared to the rivals. Although, it's enough to load general baggage which usually people haul, but it is certainly not meant for cargo hauling especially while going off road. In comfort department, there is one thing about 2014 Chevrolet Equinox which is quite impressive and it is its sliding and reclining rear seats that offer first class kind leg room to second row passengers.
The only thing about 2014 Chevrolet Equinox that impresses us the least is its 2.4 liter four cylinder engine, which remains standard on all trim levels, although it claims to have solid EPA fuel economy ratings, but in real life, it has failed to overwhelm us with its fuel economy as well as performance. In the handling department as well 2014 Chevrolet Equinox lags too much and its steering is very disappointing even if we look at it by the budget crossover standards.
If you are looking for an SUV which is more practical, then we would suggest you to look for other rivals like roomier and multitalented Honda CR-V and Kia Sorento; they offer optional V6 engine along with third row seat for a big family. For sportier SUV with more entertaining driving experience Ford Escape, Mazda CX-5 and Volkswagen Tiguan can be an ideal choice for you. 2014 Chevrolet Equinox can also fit your bill ideally if your priorities are upscale interior and optional V6 engine, otherwise there are better options to look for.
Having remained one of the best selling SUV's for several years the Honda CR-V is a perfect blend of practicality, comfort, usability, driver involvement, fuel economy, reliability and low ownership cost and these qualities still remain unmatched by any other compact crossover SUV till date. Folks who look for a small family vehicle this little SUV should top your test drive list. The 2014 Honda CR-V carries over unchanged into the new year and no issues with that since the compact crossover one of the best in its niche.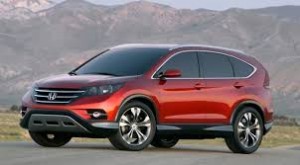 What best describes the Honda CR-V is the word "easy" because that is certainly what it makes your life. The 5 passenger crossover SUV comes in LX, EX and EX-L trim levels. While the LX comes standard with 16 inch steel wheels, full power accessories, keyless entry, a blind spot mirror, a rear view camera, cruise control a height adjustable driver seat, a tilt and telescoping steering wheel, a 60.40 split folding seat with reclining trunk mounted fold handle, Pandora internet radio control and all the fancy stuff that there should be in a modern compact crossover, the EX adds to it 17 inch alloy wheels and other luxuries like a sunroof, fog lights, body colored mirrors and door handles, rear privacy glass, a cargo cover and six speaker sound system. The EX-L boast everything along with roof rails, automatic headlights, heated mirrors, dual zone climate control, leather wrapped steering wheel and leather upholstery, eight way power driver seat with two way power lumbar, satellite radio and even a seven-spear surround sound system including a sub woofer.
Powered by a 2.4 liter four cylinder engine, the 2014 Honda CR-V runs on 185 horsepower and twists with 163 pound feet of torque and is mated to a five speed automatic transmission that comes standard with all the models. There is a choice for the buyers between front or all-wheel drive on all models. The fuel economy rates at 23 mpg city/31 mpg highway and 26 mpg combines while they drop by 1 mpg each in AWD models. The real world driving also testifies the numbers. The Honda CR-V greets the driver with a very precise steering wheel and commendably steady handling. Also, ride quality is smoother and unlike the previous generations, 2014 Honda CR-V sports a relatively quiet cabin.
The 2014 Honda CR-V faces tough completion with competitors like the Chevy Equinox, the 2014 Ford Escape, Hyundai Santa Fe Sport and of course the 2014 Mazda CX-5. In fact, the Jeep Cherokee and Subaru Forester also stand as strong alternative. And since the exterior of the 2014 Honda CR-V is quite bland and materials used in the cabin aren't as high-quality as in some of the rivals, it seems hard to get excited about the vehicle. But for those who believe in making decisions based in practicality and sensibility rather than an emotional choice based on a highly stylish grille or amazingly plush interiors, nothing comes remotely close to the 2014 Honda CR-V.