Tag Archives:
culture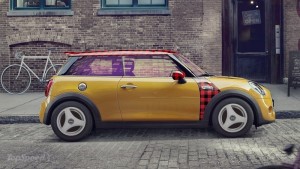 Mini is trying to capitalize in the hipster subculture that is now composed of affluent or middle class. Gone were the days when the hipster culture of the 1940s hated the idea of automobiles because luxury wasn't "hipster" at all.
According to a report, Mini created a special edition of the Cooper, called the Mini Hipster Hatch, for fans of many hipster bands mere mortals like us have probably never heard of.
The Hipster Hatch is made available in three colors—Brooklyn Blue, Organic Pumpkin and Monochromatic Green. The colors are complemented by the red-and-black lumberjack patterns on the front fenders, side mirrors and the roof. It sits on top of three-spoke alloy wheels that are reminiscent of everything about the 90s.
Inside, this three-door Cooper received an even more vintage style. It has twin-deck cassette player, a big speaker instead of an infotainment screen, and stonewash denim upholstered seats that are good for four persons.
But if you think that's everything this special edition Cooper have, you're dead wrong. Mini upgraded its windows with Instagram filters, which by a touch of a button, drivers can turn nostalgic.
There are 12 pre-loaded filters, which included the ever-popular Lo-Fi, Clarendon and Crema.
The Hipster Hatch is being powered by a fixed gear drivetrain with a five-speed transmission that lacks four of the forward gears. Top speed is limited at 25 mph.
Apparently, the sole forward gear and 25 mph top speed will give the driver better control of the vehicle.
Earlier, Mini also surprised us with the announcement of the scissor doors, which will allow the driver and passenger doors to open vertically. This will address tight parking spaces, and ensure comfort for the drivers going in and out of the car.
The Instagram windows, though, is as cute as Mini has ever produced. Who doesn't want to drive down the road on a lazy Sunday morning with the Lo-Fi filters on the windows and an old cassette tape blaring from the speakers.