Tag Archives:
cx-4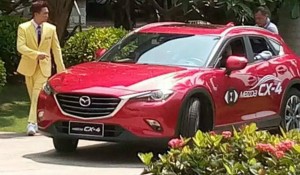 Mazda introduced the Mazda Koeru concept during last year's Frankfurt Motor Show, promising to venture into the growing crossover SUV segment. This is the answer to that—the Mazda CX-4. It came sooner than expected, but who's really complaining?
Most upcoming models come as prototype, but based on a source, the CX-4 was immediately spotted in production in Asia late 2015. By the beginning of 2016, Mazda has confirmed this and said it will be unveiled at the 2016 Beijing Auto Show this April.
The CX-4 will walk on that thin line between Mazda 3 and CX-5, so it will probably be the sportier, coupe version of the CX-3.
Mazda has already released a few teaser photos for the CX-4, and we can't help but be charmed by it. The CX-4 will have the same features such as the KODO-styled front end, massive grille, and sculpted engine hood. Koeru's grille frame extends into the headlamps—a feature not available on current Mazda units.
Koeru has a sporty profile, and we can see this on the CX-4 with its roof sitting slightly higher and its door handles having standard design.
Inside, the CX-4 interior is not as fancy as the current CX-5. But this doesn't mean the CX-4 will have no premium features since it comes with aluminum inserts, leather, contrast stitching, and overall fit-and-finish.
Since the CX-4 is configured to become a coupe, it will feel less roomy than the CX-5.
No exact word yet on the vehicle's powertrain, but it might actually not go too far off and remain inspired by the CX-5. That one has 2.0-liter SkyActiv unit rated at 155 horsepower and 150 pound-feet of torque in entry-level guise and a more powerful 2.5-liter SkyActiv with 184 horsepower and 185 pound-feet of torque.
Choices for transmission would make us pick between a six-speed manual and a six-speed automatic.
If it will cost as much as the CX-5, then you better prepare around $21,795.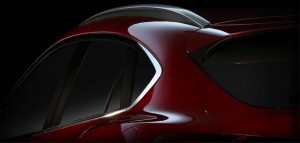 Mazda is joining the coupe-like crossover bandwagon with the CX-4, and we couldn't be any more excited. Glimpses of the new crossover from Mazda were seen recently, and it looks to be very promising.
The CX-4 will make its world debut next month at the 2016 Beijing Auto Show, but a single teaser shot was released to make us think more about what this crossover is bringing to the table.
The CX-4 will come into sale later this year, so this will most likely be a 2017 model, sources have been saying. It was first hinted by the Koeru concept car at the 2015 Frankfurt Auto Show, but no details have been released since then whether the project was pushing through or not.
There was a long discussion about where the CX-4 would stand back when it hasn't been given that name. But now that Mazda has confirmed the name, it looks to be sitting in between Mazda's CX-3 and CX-5, both high-profile vehicles. The company also said it would be sportier that other tall wagons.
Based on the single photo, the CX-4 will most likely resemble the CX-5. They will also share the same platform, as well as a slew of other features, including the same 8.8 wheelbase and engine offerings.
If we are to follow CX-5's platform, then this would mean the CX-4 will either have the 2.0-liter four-cylinder capable of 155 horsepower and 150 pound-feet of torque or the more potent 2.5-liter four cylinder that has 184 horsepower and 185 pound-feet of torque.
There were rumors that the CX-4 will only come in sale in China, but let's hope these are mere unfounded rumors.
The 2016 Beijing Auto Show isn't until April 25, so that's a long wait for more information about the Mazda CX-4. Although judging from the single photo the company released, it looks to be worth the wait.
Source: Car and Driver