Tag Archives:
CX-9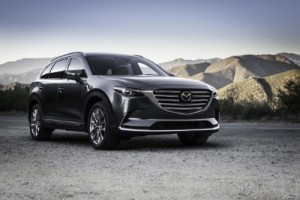 After promising fuel economy, elegant interior and superior handling dynamics, Mazda has released its pricing and packaging information for the 2016 Mazda CX-9, the midsize three-row crossover SUV that the company has been boasting about.
According to a press release, the CX-9 will retail starting at $31,520.
Robert Davis, senior vice president of Mazda's US operations, said the company has high expectations for the crossover SUV. As a flagship, the CX-9 will be the starting point of all innovative technologies Mazda will test on their upcoming vehicles.
As a Sport trim variant, the CX-9 will come with LED headlights and taillights, much like the 2016 Mazda MX-5 Miata roadster. It will also have fabric seating, electronic parking brake, 18-inch wheels, rear backup camera, trailer stability assist, Mazda Connect infotainment with commander control, and a seven-inch display.
In the Sport package, potential buyers can choose to add power driver's seat, heated front seats and heated door mirrors.
The Touring, on the other hand, has an auto-dimming rearview mirror, blind spot monitoring with rear cross-traffic alert, Homelink garage door openers, black- or sand-colored leather seating, Mazda Advanced Keyless Entry System, power liftgate, power front seats, and an eight-inch Mazda Connect touchscreen display.
Buyers can also choose among other variants—Touring Premium Package, Grand Touring Model, and the Signature.
All of the models come packed with Mazda's new turbocharged SKYACTIV-G 2.5T engine that generates 310 lb-ft of torque from just 2,000 rpm on either 87- or 93-octane gasoline. It also produces 250 horsepower on 93-octane gasoline (227 horsepower on 87-octane), and has the standard SKYACTIV-DRIVE six-speed automatic transmission either in front-wheel or i-ACTIV all-wheel drive.
The 2016 Mazda CX-9 is expected to be on sale in the US this late spring with pricing starting at $31,520 for the CX-9 Sport, $35,970 for CX-9 Touring, $40,170 for CX-9 Grand Touring, and $44,015 for CX-9 Signature (AWD Standard).
Standing out from the current line up from the brand, the new 2014 Mazda CX-9 is not only the brand's largest vehicle, but it's also a holdover from another era at the automaker; the era before the brand decided to "go it alone" away from Ford and focus on engineering more lightness and fuel efficiency into its cars and crossovers. Although the 2014 Mazda CX-9 is not a class leader in gas mileage, like those other models, it still ranks as one of the better large crossover options if you need three rows of seating and a responsive, almost nimble driving demeanor.
It was only last year that the Mazda CX-9 received a modest set of upgrades with a new snout that closely matches the frond-end look of the recently redesigned CX-5 compact crossover, Mazda 3 compact car family and the Mazda 6 Sedan. Already, the Mazda CX-9 has been one of the better looking vehicles in its class but the Kodo 'soul of motion' design language applied  with only the new front end and rear details to the 2014 Mazda CX-9 is a good fit with the SUV's existing side profile. A number of minor aesthetic changes to the cabin can be seen in the 2014 Mazda CX-9. The centre stack area has been redesigned to accommodate a 5.8 inch touchscreen and overall the interior look, while clearly carried over is the better fit with the CX-5's somewhat more upright look. The dashboard in the CX-9 features a graceful waterfall design that flows into the door panels with uncommon flair.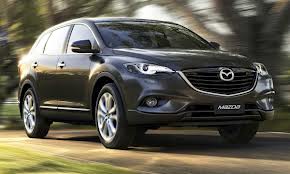 Performance changes aren't much for the 2014 Mazda CX-9 and that is a good thing. The 3.7 liter 'MZR' V-6 engine produces a 273 horsepower and runs on regular gas. Mated to a six speed automatic transmission with manual shift control, the engine accelerates the crossover from zero to 60 mph in 7.5 seconds for a front wheel drive configuration. An all wheel drive model needs 8.5 seconds for the same. The fuel economy is on par with that of other large crossovers at an EPA-estimated 19 mpg combined (17 mpg city/24 mpg highway) for front wheel drive models. The 2014 Mazda CX-9 AWD drops to 18 mpg combined (16 mpg city/22 mpg highway).
Offering amazingly strong acceleration for both around town driving and highway passing the Mazda CX-9 impresses with its agile responses. An accomplished highway cruiser, this SUV keeps road and wind noises to acceptable levels for backseat movie viewing and such. The steering, so precise, enable the driver to carve a consistent path no matter if one powers down the interstate or makes time on a rural two-way road. The steep rake of the windshields adds to the sporty vibe of the giant crossover. The suspension is a combination of compliance and poise and this is one of the best handling crossovers around.
Yes there are competitors like the Ford Explorer, Chevy Traverse, Toyota Highlander, Honda Pilot and Nissan Pathfinder, but the 2014 Mazda CX-9 stands out with its powerful V6 engine, dynamic handling, agile responses and a stunning body.