Tag Archives:
e-class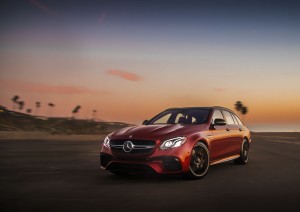 The Mercedes-AMG E63 S Wagon is not your average family car. Beneath its luxurious exterior lies an engine with a performance that can beat even the likes of the Ford Mustang and Chevrolet Camaro.
Performance
According to Mercedes-Benz USA, the Mercedes-AMG E63 S Wagon is the fastest station wagon in the world. Beneath the hood of the car rests a handcrafted AMG 4.0-liter twin-turbo V8 engine. The unit has an output of 603 hp and 627 lb-ft of torque at 2,500 to 4,500 rpm. The auto operates on a 4MATIC all-wheel drive configuration. Then, its power is distributed through an AMG SPEEDSHIFT MCT 9-speed transmission that uses a wet clutch.
Putting the pedal to the metal will allow the Mercedes-AMG E63 S Wagon to reach 60 mph from a complete stop in just 3.4 seconds. That beats the acceleration of the Mustang and the Camaro. On the other hand, the maximum speed of the auto is electronically-capped at 180 mph.
Mercedes noted that when the car was tested by a journalist at the Nordschleife of the Nuerburgring track, it conquered the whole circuit with its lap time of 7:45.19.
Design
The Mercedes-AMG E63 S Wagon is the high-performance version of the Mercedes-Benz E-Class Wagon. Therefore, it has all the signature look of Mercedes' midrange luxury vehicle such as the curvaceous corners, glossy finish and striking body lines. Its appeal is further highlighted by its improved stance, thanks to AMG's suspension; jet wing-inspired front bumper complete with air intakes; rear diffuser; rear lip spoiler at the roofing; quad exhaust tips; and chrome horizontal grille with black vertical slats in the background.
The most noticeable part of the E63 S Wagon is its 12.3-inch digital display. The gauges also come in carbon fiber look to enhance the sporty elements of the car's cockpit. Moreover, it has AMG Performance Seats and Steering Wheel as well as nappa leather surfaces.
Pricing
The Mercedes-AMG E63 S has a starting price of $106,950, excluding its $995 delivery and destination fees.