Tag Archives:
e-tron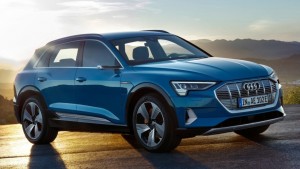 We are finally seeing the 2019 Audi e-Tron crossover SUV and it's not exactly cheap. The entry-level Premium Plus model starts at $75,795 while the Prestige trim brings the price to $82,795. Finally, the top-rung First Edition model has a base price of $87,695.
After the camouflage has been taken off, we can now see that the e-Tron, which was revealed in bare-painted sheetmetal, looks like a mix of the flagship Q8 and the smaller Q3. It has the chiseled features of the Q3 and the taillights of the Q8.
Let us focus on the powertrain that undermines all these design languages though. The e-Tron crossover uses two electric motors: one large for the rear and a small one for the front wheels. According to Audi, this dual-motor setup can produce 355 horsepower and 414 pound-feet of torque in normal mode. This output can be produced for 60 seconds straight.
To bring the power to 402 horsepower and 490 pound-feet of torque, owners can switch on the overboost function for eight seconds. This output will allow the car to go 60 mph in 5.5 seconds on the way to a top speed of 124 mph.
Depending on the load, the e-Tron can be driven using only the rear motor. The motor on the front wheels will be activated only if more power is needed and when the driving conditions require more traction.
With an optional towing package, this crossover SUV can also handle the hauling of 4,000 pounds worth of cargo.
Between the motors is where you could access the 95-kWh battery pack. There's no final EPA rating yet but we're inclined to believe that it can reach a total of 248 miles on a single charge. Audi says the E-Tron will also support 150-kW DC fast charging, which will allow it to regain 80 percent of its range in 30 minutes.