Tag Archives:
electra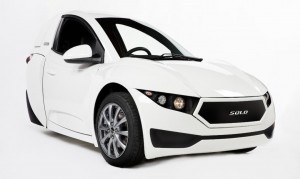 Electra Meccanica launched its 2017 Electra Meccanica SOLO electric vehicle (EV) at the Luxury and Supercar Weekend event held at the VanDusen Botanical Garden. Finally, after years of development, the single-rider SOLO is now available for the public.
The idea for SOLO was a product of the brainstorm by CEO Jerry Kroll, founder of KleenSpeed Technologies, and Henry Reisner, President of Intermeccanica Inc., who is now the COO of Electra Meccanica. It was not intended to replace the family car, but was instead dedicated to supplement the driving experience of the commuter in an environmental-friendly way, and at minimal expense.
The SOLO was built from the knowledge that 80 percent of commuters go to work alone. And since the average round trip commute is 40 miles, the SOLO won't need to be charged in between the house and the workplace because it has a 100-mile range.
The SOLO is powered by a 16.1 kWh lithium ion battery that has a universal power connector that enables connection at both quick charge and standard stations. To fully charge the battery, it needs only three hours on a 220-volt charging station, and twice the amount of that time on a 110-volt station.
It has a top speed of 80 mph, and an ability to go 0-60mph in under eight seconds.
Standing 10 feet in length, the SOLO is about 14 inches longer than a Smart ForTwo and 19 inches shorter than a Fiat 500. It has a a wheelbase of 80.5 inches, a height of 50.5 inches, a front width of 47.6 inches and a low­slung, single­seat configuration.
During its launching, the SOLO will be available in colors based on Electra Meccanica's corporate palette–Titanium Silver, Electric Red, Raven Black and Arctic White.
Those who want to make a fully-refundable deposit for the SOLO EV can now do so. Release of the vehicle will be in 2017.