Tag Archives:
electric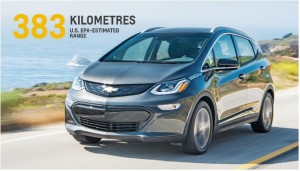 It looks like Chevrolet is keeping up its promise to offer the 2017 Bolt EV at an affordable price as it recently announced an MSRP of $37,495, including destination charge. This is rather cheap considering the Bolt EV has an EPA-rated 238 miles on a full charge.
Also, depending on individual tax situations, customers may even receive a federal tax credit of up to $7,500 for a net value of $29,995. Alan Batey, president of GM North America and leader of Global Chevrolet, said that "value" is the hallmark for Chevrolet and their offering of an affordable Bolt EV proves their intent of letting their customers access an electric vehicle with plenty of range.
According to reports, Bolt EV buyers can expect range, cargo space, technology and safety features that all come standard in this vehicle with crossover proportions. Bolt EV is considered a smart buy for any customer, thanks to its dependable performance and sales and service support from a nationwide network of Bolt EV certified Chevrolet dealers.
With the Bolt EV, you're not only saving on fuel and saving the environment at the same time, you'll also be getting well-appointed equipment and features.
The Bolt EV is offered in the standard but well-equipped LT trim, which has a starting price of $37,495. It comes with a wide array of features such as Regen on Demand™ steering wheel paddle, rear vision camera, 10.2-inch diagonal color touch screen and MICHELIN™ Self-sealing tires (in certain circumstances). The top of the line is the Premier, which features all the equipment in the LT trim plus leather-appointed seats, front and rear heated seats, surround camera and rear camera mirror.
The pricing released includes the destination and freight charges, but excludes taxes, title, license and dealer fees. Select dealerships across the US are expected to start offering the 2017 Bolt EV by late this year.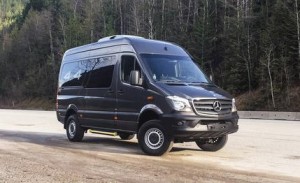 There will be a next generation Sprinter van from Mercedes-Benz, and the good thing is there will be an option for an all-electric drivetrain. The German automaker believes a fully-electric van will allow the Sprinter to be more competitive and will enable it to operate in congested cities while having zero emissions.
Ulf Zilig, the head of Sprinter's replacement project, said in an interview that the new generation van will be available in 2018. It will reportedly share the same dimensions as the current Sprinter van, but will be packed with a slew of other upgrades to make the van easier to manage. There is a possibility of an autonomous driving system.
For a better-designed product, Mercedes will be working with upfitter companies to build the van's bodies, interior shelving and full box truck systems.
If you want the fully electric Sprinter, however, you'd have to wait for more information. Zilig said that the electric drivetrain would only be available "if the market supports it." So, before Mercedes invests more money into its research and development for the all-electric van, it has to make sure there is market there.
But to be sure, Mercedes will build the Sprinter with an all-electric drive in mind.
This full-size van is hugely popular both in Europe and the United States. Ford and Ram went so far as to adopt Mercedes' strategy in using Euro-spec Transit and ProMaster vans for American use.
Mercedes is just right to arm itself with a new electric drivetrain option, considering the potential challenges being posed by other automakers. The German automaker even established its own van production plant in Charleston, South Carolina. This new facility is scheduled to start operating and be online before the decade ends, just in time for the release of the new Sprinter in US shores.
There is no information yet about the specifications of the van, as well as the pricing, so stay tuned for more details as Mercedes releases it.