Tag Archives:
elon musk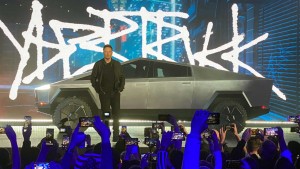 The reception of the Tesla Cybertruck was mixed when it was unveiled. However, Tesla CEO Elon Musk appears to be very confident with the demand for the electric vehicle inspired by steampunk movies.
As of November last year, Musk revealed through a tweet that the orders for the Cybertruck have already reached around 250,000 units. Although there are no official updates since then, the company CEO strongly believes that they will not be able to meet the demand for the product in four years.
If the numbers remained the same, Tesla would have to produce at least 62,500 units of the pickup yearly. Judging the character of Musk, if there have been significant changes in the figures, he certainly wouldn't have missed the chance to boast about it.
Gene Munster of Loup Ventures asked Musk about the number of Cybertrucks that they could deliver and its production costs. The Tesla boss simply answered, "We don't comment on those detailed numbers, except the demand is just far more than we could reasonably make in the space of, I don't know, three or four years, something like that."
Musk cited several factors affecting their electric pickup truck production. First is the limited capacity of the Fremont plant. Although he does not have a direct solution to address this predicament, he said that they will just try to make as many Cybertrucks as they can so they could meet up with the strong demand. The second problem lies in the number of batteries that they have.
"The thing we're going to be really focused on is increasing battery production capacity because that's very fundamental. If you don't improve battery production capacity, then you end up just shifting unit volume from one product to another and you haven't actually produced more electric vehicles," Musk pointed out.