Tag Archives:
F300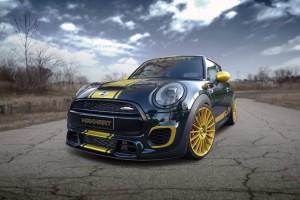 Mini Cooper may be known for all the cutesy models it released in the past few years, but the John Cooper Works it introduced made us believe Mini can actually compete performance wise. Although the JCW was a welcome development from the company, there are still a lot of things that can be tweaked here.
Enter the Manhart Racing, the German tuner that is celebrating its 30th anniversary. To commemorate the occasion, it unveiled the F300 program for the JCW. The kit's main focus is in improving the car's performance and handling credentials, as well as upgrading the exterior and interior.
The JCW is an eye candy by itself, but Manhart Racing decided to tune more of the cosmetics. It gives a new color combination to the body—British Racing Green with gold accents and decals. It also has gold racing stripes that run the length of the car and side stripes that then become checkered flags before the rear-wheel arches.
The tuner also installed a set of 19-inch gold alloy wheels with a F300 badging throughout the car.
If you find the tuning of the exterior a little brash, then prepare for this to continue in the car's interior. It has a generous trimming of premium leather and Alcantara. The steering wheel also has gold contrast stitching to complement the styling of the car's exterior. For the floor mats, the tuner used velour with Manhart's logo.
The drivetrain of the Manhart Racing Mini JCW will remain the same, except for the new intercooler and a Remus stainless steel sports exhaust system with an optimized ECU unit.
The toughest competition would be the Renault Clio 220 Trophy EDC by Waldow Performance and the Alfa Romeo 4C Centurion 1Plus by Pogea Racing.
There's no price tag released yet, so better wait for the tuner to reveal these details.