Tag Archives:
fiat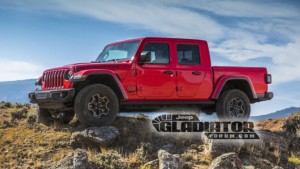 Images and texts for the 2020 Jeep Gladiator were briefly posted on Fiat Chrysler's website before they were taken down. Luckily, one individual was able to save the docs before they were removed from the media site. Everything we expect the Gladiator to be was confirmed. These are all extremely important information since many are waiting for the launch of the Gladiator.
According to the leaked document, the 2020 Gladiator will come with a 3.6-liter V6 engine that can be paired to either an eight-speed automatic or six-speed manual transmission. We expect for this pairing to offer the same 285 horsepower and 260 pound-feet of torque as in the other Wrangler vehicles. Jeep would be naught to leave Wrangler behind and create something more powerful than its most iconic vehicle.
But there's also an option for those who want more power from the Gladiator. There will be an optional 3.0-liter EcoDiesel V6 and if the current configuration for the Grand Cherokee will be the basis, then Gladiator's diesel engine might be able to cough up 240 horsepower and 420 lb-ft of torque.
The spec sheet, which was thankfully salvaged, lists the Gladiator's maximum towing capacity at 7,600 pounds (probably using the diesel engine) and a payload of up to 1,600 pounds. There are two kinds of four-wheel-drive systems that will be available, as well as Dana 44 axles joined with electronic lockers front and rear. There's also the expected electronic swaybar disconnect and 33-inch tires. All of these should transform the Gladiator into a functional and efficient off-roader.
Here's another thing that separates the Gladiator: it has an open-air ride capability. That's something no competitor of Gladiator can offer. We expect that the standard roof would be a soft top and that looks to be what Jeep is planning. The document, however, showed that two hard tops will also be part of the equation.
The new Gladiator will have a five-foot bed and a fold-down windshield which purists will absolutely love.