Tag Archives:
ford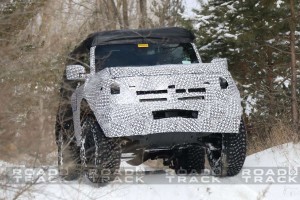 Ford is looking to challenge the off-road superiority of the Jeep Wrangler Rubicon. Fueling this rumor are the new spy photos of the two-door Ford Bronco on the dirt.
Ford already released a teaser video of the new Ford Bronco. It shows the auto traversing the desert, and together with it is a statement that the vehicle will make its world premiere in the spring of 2020.
Previously, we have seen a four-door model of the Bronco. Then recently, Road and Track released a new set of photos of its two-door version equipped with all-terrain tires. These shut down any doubts that its maker is taking a jab at the Wrangler, which comes in four-door and two-door configurations.
Although it is questionable as to whether or not the Bronco has what it takes to dethrone the Wrangler, it will certainly get a chunk of the slice that its competitor is currently enjoying in the off-road compact SUV segment of the market.
The two-door Bronco is heavily-clad in camouflage but its stance suggests that it will likely get the same platform used by the Ford Ranger pickup. Meanwhile, its front grille will possibly adopt the styling of the Bronco R Baja racer.
The two-door Bronco seems to be hiding a removable top similar to the Wrangler as well. With that, it might also feature removable doors.
Though Ford is tight-lipped about the powertrain of the upcoming Bronco, it is expected to offer the same mechanical specs as the Ranger due to their similar platforms.