Tag Archives:
four-door coupe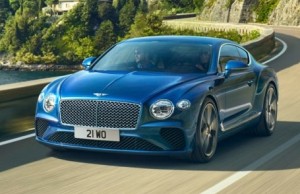 The plan of Bentley to produce a vehicle under Porsche Mission E's J1 platform could be in the form of a four-door coupe. This was after Bentley decided to scratch immediate future plans for an all-electric SUV. The news came from Bentley's Design Director, Stefan Sielaff.
The reason is because Sielaff wants the next EV to be sleek, elegant, and sporty at the same time. That could not be achieved with a vehicle that is raised high like an SUV. Sielaff himself said that the next EV using the Porsche platform should have a "certain coupe style or sportivity" that is not something the SUV could deliver.
As you well know, there have been suggestions for an all-electric Bentley based on the J1 architecture for many months now. In November last year, there were actually reports that Bentley wants to build a more luxurious variant of the Mission E. The potential name was Barnato. No actual plans came out of these rumors, though.
The news and plans of the next EV being a coupe first came out last September 2017 when Bentley confirmed it wants to build an electric sports car instead of a smaller SUV. This was done to compliment the Bentayga. Bentley also showed the EXP 12 Speed 6e concept back at the 2017 Geneva Auto Show. This might and might not be a preview of an electric sports car from the luxury brand.
The concept was a convertible, and Porsche already confirmed that using the J1 platform for the EXP 12 Speed 6e will support additional body styles, including a convertible.
This upcoming electric car will be a flagship mode. Sielaff said that they want to make sure the new vehicle will stand out on its own, and will not be a simple reiteration of the other models in the lineup. What he did reveal is that there will be more than two seats. That rules out the EXP 12 Speed 6e as the new EV because that one is a two-seater vehicle.