Tag Archives:
Frankfurt Motor Show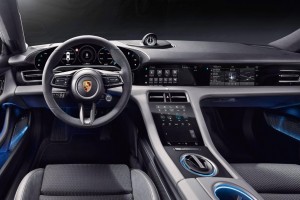 The 2020 Porsche Taycan will make its official debut during the Frankfurt Motor Show, but the luxury carmaker already gave us a glimpse of its stunning interior.
The Taycan will be the brand's first all-electric vehicle when it goes on sale in 2020. It will compete directly with the Tesla Model S. In this series of images, the German automaker gave us a glimpse of its elegant and much-talked-about interior, which the dashboard dominates.
This will be the first vehicle—even among its luxury-car contemporaries—to have a fully integrated Apple Music into its infotainment system. Because of this, its infotainment system will host a range of features and functions never before seen on other vehicles. The car's voice control function was reconfigured to allow drivers to search for songs, albums, and playlists on their Apple Music accounts. Think Siri, but now you're using Porsche's technology.
All Taycans will have a free six-month subscription to Apple Music and also a complimentary three-year roaming internet connection. Buyers will get access to Apple Music playlists that are specially curated by Porsche for Taycan owners. To get more of this music experience, the Taycan is fitted with high-quality Burmester surround sound system as an option.
Earlier prototypes showed the Taycan will have a freestanding digital instrument display and a large infotainment screen, which is similar to the 10.1-inch display used on Audi cars. The same features should be found on the production-ready version of the car. Once Porsche decides to release a less restrictive set of images, we can expect to find a small toggle-style gear selector and a second touchscreen display for the center console. This will likely be used for the climate control system.
Although Porsche hasn't given the exact specifications of the Taycan, the range-topping electric variants should come with two electric motors that will produce over 600 horsepower. Its lithium-ion battery aims to give 310 miles on a single charge.