Tag Archives:
ft-ac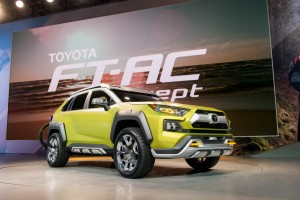 We've heard it again and again: Toyota, the Japanese carmaker, is planning on adding a small urban crossover SUV to its line. At the 2017 Los Angeles Auto Show, we saw the third preview of the vehicle in the form of the FT-AC Concept.
There is no coincidence in this after the Japanese automaker confirmed that it will bring something new to the market in the next years. Toyota Motor North America General Manager Jack Hollis said that the Japanese carmaker plans to have more than one vehicle in each segment, especially if they differ enough in features.
1. Subcompact Lineup Teases With Third Preview Of New Concept
The FT-AC Concept is the third time Toyota teased us with the concept for a new subcompact urban crossover. Currently, the Japanese automaker has a slew of subcompacts such as the C-HR, the compact RAV4, the midsize 4Runner, the full-size Highlander and Sequioa, and of course, the Land Cruiser. All of these are worlds apart in features, performance, and driving experience. The Land Cruiser remains at the top of the range.
2. Toyota Is Testing The Water With New Concepts
The FT-AC Concept may be the third one we have seen, but the earlier two concepts can hold a candle on their own. The FT-4X Concept and the TJ Cruiser Concept, as well as the third concept, the FT-AC, all have distinct characters and attitudes. Hollis said that this was specifically done to "test the waters in the market" and see the feedback from Toyota's loyal followers.
3. New Concepts Will Have A New Platform
Many of the features of the three new concepts are different, but they will most probably share the same platform—the TNGA platform. This means that the new urban subcompact crossover will be a unibody vehicle instead of a hardcore body-on-frame vehicle. The size would be similar to the C-HR and powered by an inline-4. It will have a front-wheel-drive system, but it will also offer an option for an all-wheel drive.