Tag Archives:
G90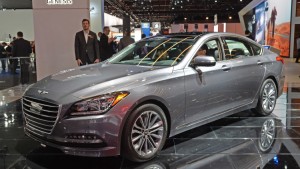 Hyundai announced that its Genesis luxury sub-brand is offering an integration with Amazon's Alexa. The "skill" provided by the service enables the driver to issue certain commands to the car.
Alexa, the voice service of Amazon, lets users access certain capabilities or skills. The said elements allow them to interact with devices like the Amazon Echo, Fire TV, Tap, and Echo Dot. The system is integrated in the Hyundai Genesis Connected Services suite. The technology is available in the Genesis G80 and G90 sedan. The good news is that purchasing the new G90 comes with a gift card for the Amazon Echo.
The owner can simply issue commands directed to his car using the abovementioned compatible Amazon devices for the Alexa. As an alternative when the user is not near an Amazon device, he can still access the feature using a dedicated web portal or using his smartphone app.
When near Amazon devices, dedicated apps or web portal, the user can start the service by saying, "Alexa open Genesis." Then this can be followed by commands such as "Alexa, tell Genesis to lock my car," or "Alexa, tell Genesis to start my car at 70 degrees," and others. The commands will be forwarded to the Genesis G80 or G90. From the car, the user can also control the Amazon devices he has at home.
The partnership of Hyundai and Amazon started yesterday (August 19, 2016). To use the service, the owner should enable the Genesis "skill" using the Alexa app. The app will run the owner through the whole activation, tutorial and customization process.
It was revealed through a report that the Alexa app in the Hyundai Genesis G80 and G90 functions by starting the car, controlling its air conditioning and heating system, operating the locking functions of the doors, and turning on the lights of the auto.