Tag Archives:
general motors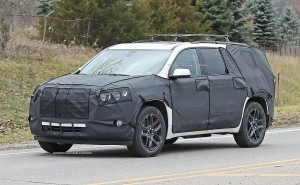 We are still unsure of what General Motors plans to call this midsize crossover seen being tested on the road. We assumed that the camouflaged Chevrolet vehicle being tested last week is indeed the model that hopes to bridge the gap between the Equinox and the Traverse.
Although it is smaller than the full-size Traverse, which is scheduled for a redesign for the 2018 model, the similarities are uncanny. Experts believe that this new vehicle from Chevrolet is going to be called the Blazer and that it will be the same size as the 2017 GMC Acadia.
1. It May Look Similar To The Acadia
The spy shots of the Chevrolet Blazer crossover SUV seen lately revealed the vehicle's side profile. If we are to believe the photos we have just seen, we can assume that it will resemble the Acadia very closely.
But how did we know it was really a Chevy? Enough of the vehicle's grille was visible through the camouflage and the sculpted headlights and LED daytime running lights are similar to the 2018 Equinox, which was brought to the limelight last September. Even the vehicle's overall form gives off the feeling of it being a Chevrolet.
2. It Will Use The GM's Chi Platform
Replacing the GM's Theta Premium and Lambda platforms is the C1XX, pronounced as Chi. It is the platform specifically designed for the construction of midsize and full-size crossovers. Among its many features is that the power comes to the front wheels, it is transversely-mounted, its suspension system is dependent on the four wheels, it offers front- and all-wheel drives, it can support two- or three-row seating, and it has ample cargo space when the third row is up.
3. It Will Arrive As A 2018 Model Year
Before the Blazer is released to the market, we'll get to see the redesigned Equinox first. The upgraded Equinox was made slower to give way to the Blazer, which will cover that part of the segment.