Tag Archives:
germany
One Opel Insignia Sports Tourer recently got a fresh look for an exhibition. The car was given a new livery to transform it into something that the fire department could really use.
In the photo and details given by CNET's Road Show, the Opel Insignia Sports Tourer got a new body design and it was fitted with accessories to turn it into a fire department command vehicle. The car came in dirty white paint with a combination of red and yellow strips. It also has "Feuerwehr" emblazoned in it, which is German for "fire defence".
In addition, the Insignia Sports Tourer was equipped with LED flashers and signalling system to be used in emergency response situations. Then an equipment carrier was installed into the car for radio and fire fighting gear. The other parts of the vehicle remained unchanged.
The personalized auto was showcased at the RETTmobil rescue and mobility exhibition in Fulda Germany.
The Opel Insignia Sports Tourer is available in one diesel-fed and five gasoline-powered models. The lineup is highlighted by the 2.0 Turbo 8AT AWD petrol model that produces up to 260 hp and 400 Nm of torque. The numbers allow the car to accelerate from zero to 100 km/h in just 7.5 seconds and its top speed is electronically limited to 245 km/h. It appears that the customized vehicle pictured here carries the said specifications.
Moreover, the Insignia Sports Tourer has a combined fuel consumption of 8.7 liters/100 km. Its CO2 emission is 199 g/km.
The Insignia Sports Tourer measures 196.3 inches in length, 73.3 inches in width, 59.1 inches high and 111.4 in wheelbase. The unladen weight of the car is 3,710 lbs while its gross weight limit is 5,060 lbs.
The Opel Insignia Sports Tourer will be sold in the U.S. as the Buick Regal TourX.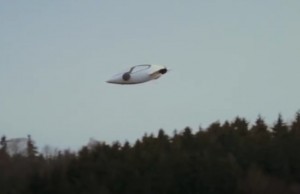 A flying car used to be a subject of a science fiction novel. With the rapid development of technology, it is slowly becoming a reality. Recently, another flying car was previewed in Germany called the "Lilium Jet".
How it was considered to be a car beats us, because it is more like a small jet. The Pop.Up of Airbus is more of a car than this one. However, if we take a look back at the flying cars in movies, Lilium resembles a lot of them.
Key Features
According to the Verge, Lilium Jet is being developed by Lilium Aviation. The company is a startup based in Munich, Germany.
The flying car is electric-powered with two-seating capacity. It features a vertical take-off and landing (VTOL) operation, thanks to its 36 propellers distributed across its 10-meter wings and 12 movable flaps. Then once airborne, the flaps adjust horizontally to provide the small aircraft a forward thrust.
Lilium said that the electric battery of the jet has 90% better efficiency than the drone-styled aircraft. The prototype is capable of covering a range of 300 kilometers at full charge and it is 300 km/h quick. That will definitely get you to faraway places fast because it is not hindered by most land barriers such as hills and rough terrains, which serve as challenges to the cars of today.
The Lilium Jet is already undergoing testing. It is still being piloted remotely though. The flying car's maker claimed that the manned testing of the aircraft is near.
Challenges
While the technology to build flying cars is close-at-hand, there are a lot of hurdles it must face before it reaches mass production for consumers. As pointed out by Mathias Thomsen of Airbus, there is the issue in public infrastructure. But this can be resolved with careful urban planning. Next are the modern day road regulations.