Tag Archives:
gm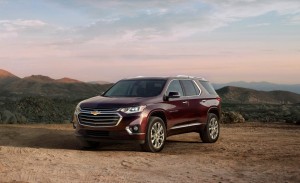 If there is any automaker that understands Americans' need for big cars, it's General Motors. From their full-size Chevrolet to GMC to Cadillac SUVs, GM made a name for themselves in the truck and crossover segment.
1. Bigger Than Its Predecessor
We're in the second generation of the Chevrolet Traverse, and it's safe to say this new one won't disappoint basing from sources. In fact, it mightily impresses. It has a wheelbase that is two inches longer than its predecessor, and is a full eight inches longer than the Acadia. This means that passengers will get to enjoy a roomier cabin—more headroom and legroom for the second- and third-row seats. That's pretty impressive because the outgoing Traverse is already roomier than any of its contemporaries.
2. Cargo Area Is Smaller Than The Current Generation Chevrolet Traverse
Unfortunately, the cargo area couldn't be bigger enough. It is smaller in dimensions. As to why, GM has yet to give out details on that. Don't fret, though, because the next-generation Traverse' 23 cubic feet space behind its third-row seating still beats that of its competitions: the Honda Pilot (16 cubic feet) and the Ford Explorer (21 cubic feet).
If you want more cargo space, you can opt not to have passengers and simply fold the second- and third-row seats. That will give you a total space of 99 cubic feet, down from 116 cubic feet on the current generation Traverse. Still, that's a pretty impressive space compared to Volkswagen Atlas' 97 cubic feet.
3. Seven- And Eight-Passenger Configurations Offered
You have options with the 2018 Traverse: either a seven-passenger seat or an eight-passenger seat configuration. The lower trim levels have three-seat benches for the second and third rows while the higher end versions sport two captain's chairs in the middle row. You'll be excited over the quick-release second-row seat that makes accessing the third row easier.