Tag Archives:
gmc acadia
Buick has not gifted the market with a minivan or a true station wagon but it compensates for it by delivering its mainstay vehicle, the Buick Enclave. Offering something between the flexibility of a minivan and the long-roofed goodness of a real wagon, without the stigma of wither, Buick Enclave a perfect substitute for those good old family shuttles. The Enclave is part of a trio of GM crossovers and to most of the SUV lovers it is the most appealing of them all. The hints of coke-bottle curve on its sides, the waterfall grille give this full sized star a personality far enough from the rugged looking GMC Acadia or the insipid Chevrolet Traverse, while all three of them share the same innards. What haven't changed much are the new grille and the LED lighting. On the inside the Buick Enclave seems to have undergone rejuvenation with the new soft-touch dash and a big touchscreen.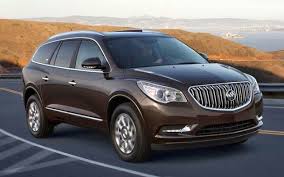 Nothing has changed under that sheet metal for the 2014 Buick Enclave. Still spinning on the same 288 horsepower as before from its standard 3.6 liter V6 engine and the same six speed automatic transmission, the beast reins with an option of channeling it to either the front wheels or to all four wheels. The indecisive transmission from the last year has been lost for the new Buick Enclave features much less hunting through upper gears and the powertrain never really struggles to tap cruising speed despite a heavy curb weight. The gas mileage is 24 mpg mat max.
On the inside, the Enclave brings its customers the IntelliLink as the big news. Bringing up the interior of the ruling monster to the leading edge in connectivity, with a relatively easy interface, well integrated Bluetooth hands-free calling and audio streaming functionality and apps for Pandora and Switcher audio, the IntelliLink transforms the driving experience into a high tech and amazingly entertaining one. The standard equipment this year includes a rear view camera system, a USB port, HD Radio, satellite radio and voice recognition, while navigation is optional as is a ten speaker Bose sound upgrade.
While it shares the platform with the Chevy Traverse and the GMC Acadia, the Buick Enclave boasts fancier styling and richer interior furnishings than its cousins. This niche of the crossovers, however, doesn't lack choice. The aforementioned Chevy and GMC relatives are still a good idea on the basis of styling and lower price tags. The Ford Flex offering its wagon like styling and a turbocharged V6 grunt is funkier at the same time and stands as tough completion to the 2014 Buick enclave. So does the Mazda CX-9 with its more athletic handling and equally spacious interiors.
If dropping down in size is not a big issue for you, higher-end rivals like the Acura MDX and Infiniti QX60 boast even nicer interiors, advanced features, and in the case of Infiniti – a hybrid powertrain. The MDX, however, offers the best overall characteristics of any three-row SUV in this price range. But in front of all these worthy vehicles stands proud with the handsome styling, enormous cabin and competitive pricing, the 2014 Buick Enclave!
GMC Acadia VS Ford Explorer
It is not necessarily easy to compete in the large crossover SUV category, but GMC Acadia and Ford Explorer manage to deliver standout performances in two very different ways. Both vehicles give you strong engines, impressive towing capabilities, third row seating and a ton of technology features, but while Ford takes the sporty and modern approach, GMC appeals to the more classic and elegant-minded buyer. Regardless which vehicle you choose, you are sure to enjoy a rewarding experience cruising in-city, on the highway, or down a secluded country road.
Performance
Every Acadia is powered by a 3.6-liter engine that buyers have come to trust and truly rely on through the years. It delivers 288 horsepower and 270 pound-feet of torque, and can tow 5,200 pounds with ease. All-wheel drive is available to provide you with an extremely intelligent powertrain capable of reacting to changing driving conditions. Fuel economy is average for this segment, returning 17 mpg in the city and 24 mpg on the highway.
Ford gives you a few different options. Explorer's standard engine is a 3.5-liter V6 mated to a six-speed automatic to deliver 290 horsepower and 255 pound-feet of torque. Hill start assist and hill descent control are included. it can reach 60 mph in 8.3 seconds, and yields 18 mpg in the city and 25 mpg on the highway. Properly equipped, towing capacity is 5,100 pounds.
Those opting for Explorer Sport will enjoy a turbocharged version of this same engine to boost performance to 365 horsepower and 360 pound-feet of torque. There is also a turbocharged "EcoBoost" 2.0-liter four-cylinder available on front-wheel drive models that delivers 240 horsepower and 270 pound-feet of torque. Acceleration speeds drop but fuel-economy is impressive at 20 mpg in the city and 28 mpg on the highway.
Driving and Handling
Although large, both SUVs are known for handling quite nicely. Will you need to slow down a little around turns? Probably! However, you won't feel as though you are driving a tank either, like you might expect.
Acadia gets a fully independent suspension so bumps felt by one wheel are not transferred to the others. This helps to deliver a smooth and comfortable ride. Ford feels solid, even at highway speeds and the electric power steering system is incredibly responsive. Both vehicles will give you a commanding view and feel of the road, so whether you are stuck in traffic in, or cruising the back country roads you will feel confident.
Safety
Top safety scores in roof, front and side-impact protection from the Insurance Institute for Highway Safety can be appreciated in Acadia and Explorer. These are family-friendly vehicles that have been designed with safety in mind. Acadia boasts a Front Center Air Bag, which is an industry first while Explorer gets Ford's Curve Control; a feature that can monitor speed entering a corner and slow the vehicle down if needed.
Ford gives you the MyKey® system, allowing parents the power to set audio and speed control for younger drivers while GMC gives you OnStar, providing roadside assistance, automatic crash response and more.
Exterior
As mentioned, these SUVs provide two very distinct looks. Acadia is classic and sophisticated while Explorer is modern and sporty. Acadia gets full redesigned for 2013, with a new hood, front fascia, grille and wheel options. It offers a confident stance with clean lines and gorgeous new projector beam headlamps.
Explorer received a redesign two years ago, and fortunately, Ford did not fuss with it because it is the best design yet. Black lower bumpers offer a rugged look while chrome accents and a satin silver grille provide a modern attitude. Explorer has an agile, fluid look that Ford fans love, and the available 20-inch wheels are a must-have.
Interior
Both provide three rows of seating, but if you plan on using your third row for adults, Acadia would be your best option. Explorer's third row is better suited for children, however Explorer also gives you a power-folding rear seat. Acadia seats up to eight passengers with more than enough room for adults to fill all three rows. The second row does slide easily to provide access the third row.
GMC gives Acadia a revised center console and handsome cabin accents while Ford has one of the most user-friendly interfaces on the market.
Technology and Entertainment
The Color Touch Radio with IntelliLink® is a highlight in Acadia, but is it enough to compete with SYNC®? These interfaces are very similar yet quite unique, so getting familiar with both could sway you toward one vehicle or the other.
Both vehicles also offer a rear seat DVD entertainment system to keep passengers entertained on the road. Acadia's Color Touch Navigation System is vivid, easy-to-use and integrates seamlessly with SiriusXM® Traffic and Weather, but the 12-speaker Sony® audio system available is hard to pass up.
Image thanks to money.cnn.com