Tag Archives:
grand commander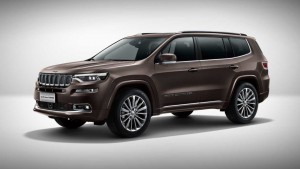 The 2018 Beijing Auto Show has on full display the Jeep Grand Commander, a massive three-row, seven-seater, full-sized SUV. The Grand Commander is the newest Jeep model available to the Chinese market. The others are Compass, Renegade, and Cherokee.
The Grand Commander sits on a long wheelbase, making it a full-sized SUV. Although Jeep has yet to release info on dimensions, one look at the Grand Commander and you'll this is one classic SUV (definitely not a crossover).
1. Design
When it comes to design, the Grand Commander is not that far off from Grand Cherokee, though the latter is sportier because of its more aggressive front bumper. The Commander is statelier with its rectangular headlights, compact front grille, and a business-like bumper, fog lamps, and chrome trim.
The interior features a three-row seating layout that can accommodate up to seven people. The front section looks like an upgraded Grand Cherokee, thanks to wood trims on a few spots and on the steering wheel.
2. Powertrains
There's no available information about the powertrains options for the Grand Commander. We can surmise, based on the company's Chinese website, that one of the options would be a 2.0-liter turbocharged engine that is similar to the one found in the new Wrangler. That unit can produce 268 horsepower and 295 pound-feet of torque on the Wrangler. If that unit will be fitted on the Grand Commander, expect it to produce around 350 horsepower.
3. Sales Increase
The Grand Commander should further boost Jeep's market in China. It already has a pretty impressive lineup of vehicles for the Chinese market, but the Grand Commander will be the pinnacle of the available models. Last year, Jeep sold 200,000 units in China, a massive increase from the sales numbers in 2016.
And though there has been a drop in sales in the first quarter of 2018, the arrival of the Grand Commander should remedy that soon.