Tag Archives:
Grand Sport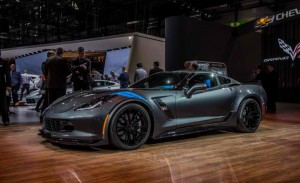 The 2017 seventh-generation Chevrolet Corvette Grand Sport is a culmination of the original Grand Sports of the 1960s, which was revived in 1996 and 2010. The car makes its debut at the Geneva Motor Show 2016.
For the seventh generation Grand Sport, Chevrolet made sure to fuse the best elements of the past editions, especially the suspension components, wider wheels and tires from a burlier variant, and the standard V-8 engine option.
According to CarAndDriver, compared to past editions, the 2017 Grand Sport is definitely wider, thanks to the current Z06's cooling systems, wider rear fenders, and look-alike grille. It also has 19-inch front and 20-inch rear wheels fitted with Z06 285/30 and 335/25 Michelin Pilot Super Sport rubber. The optional Corvette's Magnetic Ride Control will come standard with the Grand Sport, as well as the anti-roll bars and front and rear transverse composite leaf springs.
The Stingray Z51's electronically controlled rear differential is standard for the GS. As for the brakes, the 2017 Grand Sport somewhere between the 14-inch front rotors and 13.4-inch rears used in Corvette Stingray.
The power of the GS comes from the LT1 6.2-liter V-8 engine used by Corvette Stingrays. It offers the GS in seven-speed manual transmission and eight-speed automatic, as well as in coupe and convertible body styles. There are fender hash stripes and full-length body stripes with optional six colors.
The last five Grand Sports were underutilized in terms of being racing cars because of General Motors' arbitrary internal racing ban in 1963. For the seventh generation GS, Duntov is offering customers larger brake, fuel tank options, and L88 big-block engine option.
Chevrolet has yet to announce the pricing for the Corvette Grand Sport, but let's expect it to be a few thousands more than the Corvette Stingray. The same goes for other models, so might as well expect this will also have the same price range.