Tag Archives:
gt2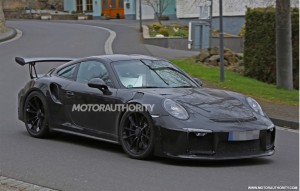 Everyone thought that Porsche was testing a more extreme version of the latest 911 GT3 when spy photos of a new prototype resembling the car came out. However, the company clarified that it's an early tease for the 2018 Porsche 911 GT2.
Andreas Preuninger, 911's chief engineer, confirmed through a report that the 911 GT2 will be part of the 991-series 911 family. The company, in fact, already has mules out on the streets for the next generation car.
At the front, this car would most likely have a larger intake than those on the GT3 RS while at the rear, the hidden vents are on either side of the bumper, typically indicating a turbocharged engine. These cannot be found on the GT3 RS.
We can expect the GT2 to have the same engine as the 911 Turbo, albeit with more power. If it will have the latest Turbo S, which can now deliver 580 horsepower from the twin-turbocharged 3.8-liter flat-six, then the GT2 could crank up to 620 hp.
The release of a GT2 would be late, in all honestly, so some are even expecting Porsche to just skip ahead to the GT2 RS. If the brand does this, it should be ready to power the GT2 RS with a capacity of 660 hp. The previous GT2 RS already had 620 hp, remember.
All of this power can be found on the rear wheels, and via a most likely seven-speed manual clutch transmission. Since the 911 models have four-wheel steering system, the GT2 will probably also come packed with this feature.
There were talks that the GT2 would officially come to the end of its production, especially because the Turbo models are offering better performance than previous GT2s. The rear-wheel-drive layout of the GT2 can also be a challenge for some people, but aren't we glad Porsche didn't give in to the temptation.
The GT2 will be released in 2018.