Tag Archives:
gt3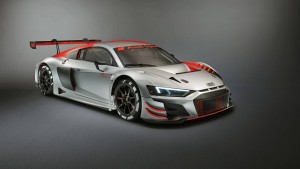 After a mysterious teaser from Audi about a car bound for the 2018 Paris Auto Show, the luxury car maker finally reveals what it is all about. The vehicle is the Audi R8 LMS GT3, which is built with racing in mind.
Audi said that the auto is "tailored closely to the customer requirements" in terms of its technology and operating costs. That means the company spent a lot of time discussing the specifications of the vehicle with automotive engineers, racing team owners and race car drivers.
The new Audi GT3 car concentrates on improving its aerodynamics and cooling. These are evident in the winglets on its bumper, extended front lip spoiler, chunky wheel arches, huge rear wing, and air ducts.
In addition, Audi tinkered with the car's transmission to make it more durable. There is also more focus on the auto's safety elements.
Engine
Under the hood of the Audi R8 LMS GT3 is the same 5.2-liter naturally aspirated V10 engine found in its predecessor. The unit produces 585 hp.
Pricing
The new race car costs €398,000 plus VAT. However, customers who already own the older version of the car can upgrade theirs to get all the goodies offered by the new Audi R8 LMS GT3 for €28,000.
Delivery
Audi is looking to deliver the first units of the R8 LMS GT3 to buyers in November this year—just in time to prepare them for the 2019 racing season in January.
Audi R8 LMS GT3 Photos
Check out the gallery below for the official photos of the new Audi R8 LMS GT3: