Tag Archives:
hatch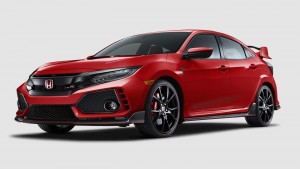 The 2018 Honda Civic Type-R is best known for its performance. It is the world's fastest production front-wheel drive car today.
The hot hatch is equipped with a 2.0-liter turbocharged inline-four engine. The unit produces 306 hp. The power goes to the front wheels via a six-speed manual gearbox. That allows the car to accelerate from zero to 60 mph in just 4.9 seconds. Then, its top speed is electronically-locked at 170 mph.
The Civic Type-R exudes an air of aggressiveness, thanks to its extended front bumper complete with black mesh and lip spoiler, air intakes, side skirts, protruding rear bumper, rear wing, rear diffuser, triple exhaust pipes, and sports wheels.
Due to the mentioned factors, most buyers tend to overlook the practical side of the car. So here is a list of things that make the Civic Type-R ideal for every day driving:
1. Fuel Efficient
The hot hatch may not be Honda's most fuel-efficient car out there. But its combined fuel-consumption is 22/28 mpg. According to TorqueNews, you can also fill it with your regular unleaded gasoline because of its engine's low compression.
2. Its Manual Transmission is Easy to Use
Driving a manual may take away the convenience brought about by the ease of operation provided by automatic and CVT gearboxes. On the good side, an MT gives the driver a good feel of the vehicle's power. That's why most car purists prefer it.
The Civic Type-R's MT is easy to learn. It has the always-on torque feature that makes shifting in city drives very minimal. In addition, the center display has indicators that help the driver determine when to shift gears.
3. Comfortable Interior
Despite the compact appearance of the Civic Type-R, it actually has a decent space in its cabin. The front has a total headroom of 39.3 inches and total legroom of 42.3 inches. The back offer an overall headroom and legroom of 37.4 inches and 35.9 inches, respectively. The rear seats can be folded to accommodate more of your haul from the grocery or your baggage.
The sports front seats possess that cozy feel in them. Then the center console has a 7.0-inch digital gauge cluster that manages the drive modes of the hatch as well as information on navigation, G-force meter, lap timer and shift lights.