Tag Archives:
Honda CR-V
There have been several reasons that have made Honda CR-V one of the best selling SUVs and surprisingly all of them are rather good enough to make it an ideal choice. There is no denying that the comfort, practicality, fuel economy, low ownership costs, usability, driver involvement and reliability offered by Honda CR-V over the years is unmatchable to any other compact SUV coming at this price. So, in case you are looking for a family SUV with all these features coming as staple ingredients in it, then this years' 2014 Honda CR-V must make an entry to your teat drive list.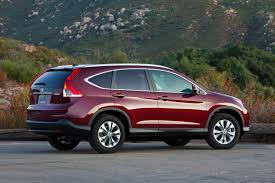 The best and the most convenient word that describes 2014 Honda CR-V is 'easy', because this is how you will feel once you spend a good amount of fortune in buying an SUV with such high standards. The new Honda CR-V is easy to drive, look out and park without giving much pain to the driver. Its amply spacious backseats and large convenient doors make it ideal for loading kids along with the handle in the trunk that allows you to flip the backseat to make space for big items in the cargo area, which in itself is quite ample and spacious. In this generation, when most of the SUVs are known for their complicated electronic interfaces, the CR-V might not boast your requirement for trendy graphics, but its controls are easy to handle without any glitches. To keep things simple, Honda has introduced CR-V in 2014 with only one engine option, which remains same in all three trim levels. The only choice that one can have to make additional in top trim levels is their navigation and rear seat entertainment system, which you might not miss in the basic trim levels because of its otherwise superb functionality.
However, for those who are looking for something extra in their futuristic SUV, 2014 Honda CR-V might not be the most ideal or emotional choice and there are many too reasons for that. To start with, its exteriors is very bland and might even look ugly to many, and the same can be said for its below average cabin. The materials used for interiors of 2014 Honda CR-V are not of very high quality if compared to other crossovers. Apart from that the decision of Honda to keep only one engine choice that two mediocre four cylinder engine, might take some of their buyers to other more powerful choices having better engine options and luxurious interiors along with handsome styling from outside. But instead of creeping into the disappointments, one must also consider the positives of this long loved SUV.
We recommend you to take a look at other 2014 Honda CR-V rivals like Chevy Equinox, 2014 Ford Escape, Hyundai Santa Fe Sport and 2014 Mazda CX-5 as they have everything that an SUV lovers looks for in a stylish yet comfortable SUV. But in case you are on for a more practical, sensible and close to ground SUV, there can be a no better choice than 2014 Honda CR-V.