Tag Archives:
honda urban suv
The all new 2015 Jeep Renegade is all set the scorch the already heating up SUV segment of compact cars apart from making a value addition to the portfolio of the brand matching every inch with its benchmarks like efficiency and excellent driving dynamics. Going the traditional way, the new 2015 Jeep Renegade also comes with its best in class 4X4 capability, which has always been a plus point with Jeep and most of the customers expect that to come in the package.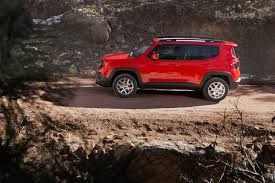 The design of all new Renegade has been refurbished keeping in mind its global acceptability and has been made palatable to make it match up to global standards. The cute and little buff bugger design of 2015 Jeep Renegade is appealing at first look and gives a sense of refreshment from usually mundane Jeep styling. However, Jeep has managed to retain its trademark seven slat grille, which can be recognized instantly. The traditional bulging fenders and square roofline are also perfect for the next generation Grand Wagoner. The addition of upturned rear side windowline and the attractive wrap around rear glass in 2015 Jeep Renegade adds a special character to its appearance. Jerry can crosshatches taillamps are actually very appealing and looks amazingly look with its Trailhawk trim. If seen minutely from inside you will find this to be a combination of Jeep Cherokee and Fiat 500L. Like any other hardcore Wrangler from the Jeep, Renegade also comes with My Sky, which are removable plastic panels placed aesthetically over front and rear seats.
Keeping itself abreast with the ongoing global demands for SUVs, the all new 2015 Renegade has been engineered in such a way that it can accept the functionality of for MultiAir gasoline engines and two MultiJet II diesel engines. The addition of start/stop technology and availability of option to choose between six speed manual or nine speed automatic transmission is sure to make value addition for improved fuel economy. Availability of Renegade in Diesel engine will surely be an icing on the cake to look out for.
Because it belongs to the Jeep SUV factory, 2015 Renegade should be excellently capable off road because it comes with advanced 4X4 systems that can make it move up to 100% on the torque engine no matter what kind of wheel grip it has on board. The active auto drive system has the capability to run on five modes namely sand, snow, auto, mode and rock. Disconnection rear axle is a value addition for improving its fuel economy on long trips. To improve its all terrain capability further, Jeep has introduced skid plates, all terrain tires, independent rear suspension, tow hooks and additional hill descent control.
But to be SUV lovers favorite futuristic car, 2015 Jeep Renegade has to do several things like it has to be a really good Jeep, with its accomplished and sophisticated 4X4 system that offer ample of ground clearance to the drivers. However, 2015 Jeep Renegade has a tough road to travel with competitors like Subaru XV Crosstrek, Nissan Juke and Honda Urban SUV as they have great chance of eating its space in the market.
We might call it a coincidence, but Honda and Volkswagen are playing on similar notes. While Volkswagen launched its mid-sized SUV Concept, Cross Blue, Honda also released the amazing compact Urban SUV Concept. Just like the Volkswagen Cross Blue was named the little brother of the Touareg, the Urban SUV Concept also gained the title of being the little brother of the highly popular and amazing Honda CR-V. Want another similarity? Well, both the concepts were launched by the respective companies at the 2013 North American International Auto Show!
As mentioned above, the Honda Urban SUV Concept is supposed to be the little brother of the Honda CR-V, both in terms of price as well as size. Measuring precisely 169.3 inches in length, the Urban SUV Concept is 9 inches shorter than the CR-V. Honda reportedly says that they consider this size perfect for driving a vehicle conveniently in cities as well as on highways without compromising with the comfort and spaciousness that a SUV ought to have. We cannot agree more. The Urban SUV certainly features an optimum size without having any notable and adverse effects on the space inside.
Rumours have it that the company intends to bring the Urban SUV in the markets with its Earth Dreams Engine and Transmission Technology. As the names of this technology suggests, the SUV will produce much less emissions as compared to a regular SUV of the same size. It is highly likely that the Urban SUV would feature a 1500cc I4 engine, which is a characteristic part of the Earth Dreams technology. This engine will further be twinned with a continuously variable transmission technology, and together, these two comprise the entire technology. One can expect a dramatic decrease in the carbon dioxide emission levels of the SUV while the fuel economy of the vehicle will be increased by many folds.
Being a family SUV, the Urban SUV is definitely supposed to offer features that make riding experience comfortable. And that is exactly how it is. Honda has incorporated a number of its original and innovative ideas in the Urban SUV to ensure that the vehicle remains unbeatable. One of our favourite ones among these features is the Centre tank Layout technology. This technology helps in keeping the interior space to a maximum value, and is one of the primary reasons that make the Urban SUV a comfortable choice despite its size. Another such feature is the excellent Magic Seat feature, which allows passengers to configure the seats of the vehicle in many different configurations as is best suited to them depending on the number of passengers and luggage that is to be carried. Honda certainly wants the Urban SUV to be largely comfortable!
Besides these comfort ensuring technologies, the Honda Urban will also include the Next generation Telematics and a much more modernised interior. Not only will the SUV be comfortable, but it will be luxurious as well. Priced below the CR-V, the Urban SUV concept features quite a number of amazing technologies that one might expect only in an expensive vehicle!