Tag Archives:
honda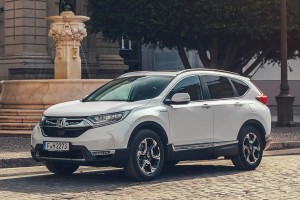 The Honda CR-V hybrid model will have a starting price of £29,105 ($37,370) in the UK. Honda also announced the specs and features for the well-loved SUV's hybrid version.
Under the hood, the CR-V hybrid version is powered by an all-new twin motor Intelligent Multi Mode Drive (i-MMD) hybrid powertrain. This combines an electric motor, a 2.0-liter petrol engine, and a separate electric motor-generator that will deliver a total output of 181 horses and 315Nm of torque.
To reduce size and mass, the new system employs a single-fixed gear ratio instead of the conventional gearbox. Buyers can choose if they want a front- or a four-wheel drive.
The four-wheel-drive models start at £32,065 ($41,171) and can be as expensive as £37,255 ($47,835). The trim has a lineup made up of four specifications: S, SE, SR, and EX. The top-of-the-range versions will arrive with a heated steering wheel, head-up display, panoramic glass roof, leather and cruise control as standard.
As the first car in Honda's lineup to use the new hybrid system, CR-V is pressured to show the rest of the world that the Japanese automaker is ready to move progressively towards a more environment-friendly development phase. The powertrain used in the hybrid version will automatically shuffle between these three driving modes—EV Drive, Hybrid Drive, and Engine Drive—depending on the conditions and how the car is being driven.
The pure EB and hybrid driving modes are configured for low speed and urban driving, so don't expect much. If you want more power, the petrol engine can kick in and put the wheels in motion. It is also used to deliver power to the electric motor and recharge the battery pack.
In official tests, the front-wheel drive achieves a 53.3 mpg rating while the four-wheel-drive model only has 51.4 mpg. Emission ratings are 120g/km for the front wheel drive model and 126g/km for the four-wheel drive.