Tag Archives:
HondaLink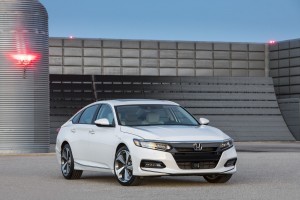 There is something about the Honda Accord that makes you feel good, right? Maybe it's the familiarity. Maybe it's the long and illustrious history that started way back in 1976. Whatever it is, we're sure you're going to have fits of happiness reading about the coming of the 2018 Honda Accord, a completely overhauled of this beloved sedan.
The new Accord is going to have so many new things for its arsenal: engines, automatic transmission, chassis, body design, Honda's safety and driver-assistance technology, and a tech-savvy cabin.
Same Silhouette, New Grille Design
The Accord stays true to its personality, not changing the silhouette that Honda fans have come to love. The front end is where you'll see the changes and updates, starting with the grille design that combines both the radiator grille and the air dam. There's also an overhang on the nose, as well as a body insert that sits between the grille, headlights, and the end of the hood. From there, you can see the Honda emblem.
The side profile uses a gently curving upper body and a crease above the side skirts. Around the headlights, the fenders are muscular while the rear end looks quite ordinary with 3D taillights and tiny exhaust outlets.
Germanic and Futuristic
If you've ever been inside a BMW, then you know that its interiors are like no other. The Honda Accord takes the same path as its new infotainment display gives off a German vibe. The system features roles like a smartphone. It even has connectivity for Android Auto and Apple CarPlay.
If you are familiar with OnStar, you'll get the Honda version with HondaLink. This allows your smartphone to access diagnostics, track the Accord's speed, remotely lock and unlock the car, and remotely start it, too.
Packed with Power
The new Accord will follow the footsteps of the Honda Civic and will make use of a pair of turbocharged four-cylinders. Lesser models will, however, be fitted with a 1.5-liter, all-aluminum four-banger that can produce 192 horsepower and 192 pound-feet of torque.
Higher-end models will make use of the same system, albeit the 2.0-liter version. This upgrades the production to 252 horsepower and 273 pound-feet of torque. A hybrid version is also in the works, but details are fuzzy for now.