Tag Archives:
hypercar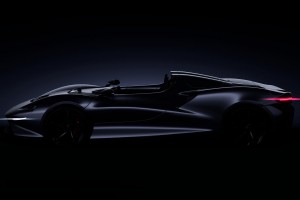 McLaren confirmed that a new hypercar is in the works. The upcoming McLaren hypercar, which will launch in 2020, will be a part of the Ultimate Series lineup and could take on the GT Superlight name. There will only be 399 units produced.
McLaren introduced the new design of the hypercar through a teaser image during the Pebble Beach Concors d'Elegance. The hypercar will have an open top and is described as a two-seater open-cockpit roadster. It will sit low with only a minor lip to act as a windscreen. It'll come with contoured flanks and dihedral doors.
The new hypercar is scheduled to slot between the Senna and the soon-to-be-released Speedtail in terms of price. The Senna will cost buyers £750,000 ($910,293.75) while the Speedtail will set you back by £2.1 million ($2.548 million).
The Senna was built for outright track performance while the Speedtail is presumably a vehicle that focuses on providing aerodynamic features and outright top speed. This third vehicle in the Ultimate Series lineup is fitted for the road so it's unlikely that you'll see this on the track.
Reports said that the new hypercar will be fitted with a 4.0-liter twin-turbocharged V8 that's also used in the Senna and the upcoming Speedtail. That engine is expected to be utilized for the entire lineup.
As for the power output, the supposedly GT Superlight will make 789 horsepower (the same as the Senna). The engine will be paired with a rear-wheel-drive system and a seven-speed dual-clutchbox transmission.
McLaren is committed to using its famed carbon-fiber chassis for the new hypercar. Supposedly, it is going to be the lightest car McLaren has ever produced during the McLaren Automotive era, pegged to be 2010 onwards. This means that the body will be made out of carbon fiber, too.
The company didn't say when the GT Superlight hypercar will be released to the market.