Tag Archives:
Hyundai Santa Fe Sport
Ever since Hyundai announced its 2014 Hyundai Santa Fe Sport, there has been a lot of buzz going around it. The first and the foremost thing that most of the reviewers noticed about Santa Fe Sport is its sharp styling along with the availability of plenty of advanced, standard and optional features. The pleasantly roomy and quiet interior of Santa Fe is like an icing on the cake, which is beautifully contributed by its acceleration and handling abilities that have been taken as a parameter enough to satisfy the expectations of the customers. But, because the competition is too tough to handle in the market especially among the small and midsized SUV segment for 2014, there is no doubt that 2014 Hyundai Santa Fe Sport is good enough to measure up to its rivals in the market.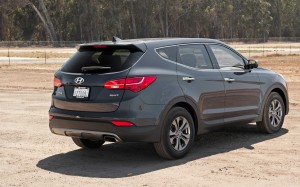 If you check the reality, you will find out that the Santa Fe Sport does more than just measuring up its rivals and in literal terms, it can be described as the smaller sibling of last year introduced Santa Fe, which is a three row seven seat SUV. The five passenger Santa Fe Sport has ditched the third row seating option and comes with five passenger seat measuring around 8.5 inches if measured from bumper to bumper. Because of all these alterations, driving the 2014 Hyundai Santa Fe Sport is a more engaging experience and it also navigates easily through tight confines and shows great ease in handling small areas. To make it even more competitive, Hyundai has introduced two engine option for its customers wherein the base engine is of 2.4 liter with four cylinders which is powerful enough and the livelier turbocharged 2.0liter option for more refined driving.
Despite being the smaller version of Santa Fe, the Sports' version is still roomier and provided excellent comfort to the adults. Ample cargo space is enough to handle routine luggage and also accommodate daily errands of a family. To keep the pace with the current tradition of Hyundai, Santa Fe Sport also offers appealing convenience options and excellent luxury features for the competitive price it comes at. To top it off the generous warranty coverage offered by Hyundai can be considered an icing on the cake.
Additionally, the 2014 Hyundai Santa Fe Sport matches to almost every top ranked small sized crossover in terms of features, convenience and comfort especially with the likes of Ford Escape, Honda CR-V, Mazda CX-5 and Toyota RAV4. Like any other SUV, Santa Fe Sport falls short in fuel economy department and that is the only major drawback that can make you step back from buying it. If you compare it with other small crossover SUVs, you will find that Santa Fe Sport trails by 3 to 4 mpg in the combined driving feature department. Even with these few drawbacks, 2014 Hyundai Santa Fe Sport makes an excellent recommendation for your short list of consider buying SUVs in 2014 as it comes with class, comfort, luxury and elegance packed in a single packet excellently.