Tag Archives:
i8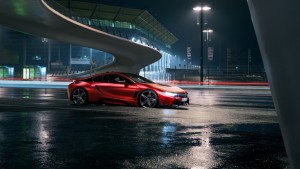 AC Schnitzer just introduced its customization kit for the BMW i8. The package offers new exterior and interior kit for the hybrid car. The additions make the auto more aggressive-looking.
Check out the key features of the new AC Schnitzer package for the BMW i8 here:
1. Exterior
AC Schnitzer only released information about its body kit for the BMW i8. The exterior of the car is enhanced by new bumpers plus set of 20-inch front wheels and 21-inch rear wheels wrapped in 245/35 R21 and 285/30 R21 tires, respectively.
In addition, the specialist offers new wings on the bumper, side skirts, door handles, mirror caps, fixed rear wing on the boot lid and rear diffuser. The parts mentioned all make use of light carbon fiber materials.
2. Interior
AC Schitzer is yet to reveal photos of the car's interior. However, the specialist confirmed that it will have aluminum pedals and foot rest plus velour floor mats.
3. Power Unit
No changes were made in the hybrid power unit of the BMW i8. Therefore, the car's combination of AC Electric Motor, 7.1 kWh high voltage lithium-ion battery and BMW TwinPower Turbo 3-cylinder engine retains its 357 hp 420 lb-ft of torque output. It's acceleration from zero to 60 mph can be achieved in just 4.2 seconds.
4. Pricing
No pricing details were released yet by AC Schnitzer of its body and interior kit for the BMW i8. It should be noted though that the starting price of the car is at $140,700. So be prepared to dish out more than the said amount if you go for the cosmetic upgrades.
5. Debut
The custom BMW i8 of AC Schnitzer will be showcased at the 2017 Geneva Motor Show next week.
6. Photos
Check out the photos of the AC Schnitzer BMW i8 which were provided via Motor1.com in the gallery below:
7. Video
Here is a clip showing a quick preview of the vehicle's exterior: