Tag Archives:
iDrive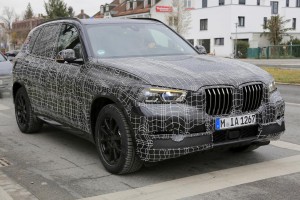 BMW has confirmed that a new model under its X series will become available by the end of this year. The BMW X5 will also be the best platform for the German brand to feature its latest iDrive infotainment system.
The new fourth-generation BMW X5 will be revealed most likely at the Paris Motor Show in September, and might become available in dealerships around the end of 2018. This information was confirmed by BMW head Harald Kruger during BMW's 98th annual general meeting. This will be the fourth X model to arrive this year, after the X2, the new X3, and the X4.
This new SUV will be the first vehicle to feature BMW's latest iDrive infotainment technology, which is called the BMW Operating System 7.0. The same system will also be featured in the upcoming 3 Series saloon and the flagship X7.
The spy shots revealed a lot about the evolutionary design language that BMW has used for the X5. As a rival to the Range Rover Sport and Porsche Cayenne, the photos showed the company's latest hexagonal lighting signature even when it is completely covered in camouflage.
CLAR Platform
The current X5, which was introduced in 2013, is still using the same platform as the second-generation X5 from 2006. The biggest challenge then is finding a suitable platform for the new X5, and this could be the CLAR platform, which has already transitioned from the saloon to the SUV in the latest X3. On the latter, the platform has already shed off 55kg off the kerbweight. The larger X5 will have more saving in terms of weight and fuel efficiency.
The new X5 will follow the 5 Series' four- and six-cylinder petrol and diesel engines.
SUV sales for BMW grew rapidly in the past decade as this segment continues to be the main focus of customers. The company hopes to build on that success when the X5 is revealed later this year.