Tag Archives:
Japan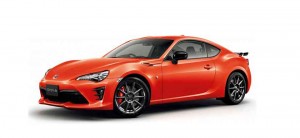 Once again, Toyota released a special edition of its popular 86 model. And although it still didn't turn the car into a full-blown performance car, it tinkered with enough technical and mechanical features to make the driving experience better for owners.
In many ways, it is similar to the 86 Yellow Limited and the 86 Style CB, though the Solar Orange Limited is still different in many aspects—the Creamsicle paint finish and the High Performance package, for example, are both exclusive to this edition.
1. It is Only Available in Japan
Sadly, much like Toyota's other 86 limited editions, the 2017 Toyota 86 Solar Orange Limited will only be released in Japan, and will unlikely land on US shores. Not only does the Solar Orange paint job is making us frustrated in many ways, but this 86's improved braking and sharper handling make the envy for Japanese cars shoot up to the roof.
2. It Sells for Less Than $30,000
 Toyota has yet to announce how many of these 86 Solar Orange Limited they are planning to build. They said, though, that prices will start at 3,251,880 yen ($29,400) for the manual transmission model and 3,318,840 yen ($30,000) for the automatic transmission model. Those who want to place their orders only have from January 31 to March 10, 2017 to do so. After the order book has been closed, Toyota will stop production to ensure the exclusivity of the edition.
3. It is Compatible with the High Performance Package
Toyota is also releasing a High Performance package, which is compatible with standard 86 models. The package includes a new set of Brembo brakes with red calipers and new shocks from Sachs. These are then paired with the special set of 17-inch thin-spoked wheels found on the 86. For those who want the Solar Orange Limited with High Performance package, you need to shell out an addition of $2,200.
There seems to be a pervading trend now among the governments of first-world nations: use sports car as the official livery of the country's police force.
Just recently, Nissan handed over three of its 370Z to the Tokyo Metropolitan Police Department to show they are supporting the men and women in service of Tokyo, Japan.
The cars are all decked out in black-and-white regalia, complete with flashing lights and all the livery worthy of a police car. If one looks at the cars closely, they can also notice the Nissan badge at the front was replaced by the Tokyo police force's shield.
Especially prepared by Nismo using the 370Z Nismo as donor, these three new police cars for the Tokyo Metropolitan Police Department will use Nissan's familiar 3.7-liter V6 engine, based on a report. For these particular cars, the engine can deliver 350 horsepower.
Nissan provided the cars after the Tokyo Metropolitan Police Department called on Japanese automakers to provide them with an "iconic car" that will help represent the department's commitment to road safety in the city (and even in surrounding areas).
This was a similar strategy used by the UAE government, particularly Dubai, although things are quite different in that oil-rich country. For the Dubai Police Department, nothing short of the priciest sports cars can speak out against the deluge of high performance engines parading around the city every single day.
Exotic cars such as the Bugatti Veyron and the Porsche 918 Spyder make up the Dubai Police Department's fleet.
Such a call from Japan (and even from Dubai) followed an announcement by Italy's Carabinieri earlier this month that it has a handful of Alfa Romeo Giulia Quadrifoglios in its fleet.
Can you just imagine having a Bugatti for a police car? The Nissan 370Z is not in any way cheap, but the Bugatti, Porsche and Alfa Romeo are on totally different platforms.